Honda to start manufacturing cars in Argentina in 2011
Monday, June 28th 2010 - 00:58 UTC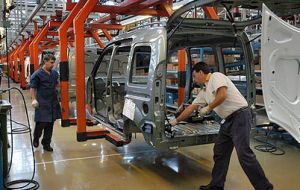 Honda plans to start manufacturing automobiles in Argentina next year, when the Japanese automaker's plant in Campana, a city on the outskirts of Buenos Aires, opens, the press reported, citing company executives.
The Honda plant in Campana, located 65 kilometres from Buenos Aires, will have the capacity to produce 30,000 automobiles annually.
Some 60% of the vehicles manufactured at the plant will be exported.
Honda has resumed investing in the South American country after shelving its expansion plans amid the global financial crisis in late 2008.
The Japanese automaker has invested 500 million USD in Argentina, where it sells automobiles and motorcycles, and the company is looking at pumping a similar amount into its operations here, Buenos Aires province officials told the daily El Cronista.
The first model to be manufactured in Argentina will be the Honda City, a sedan currently produced by its Brazilian subsidiary at the plant in Sumare.
Argentina and Brazil, which are partners with Paraguay and Uruguay in the Mercosur trade bloc, have a bilateral trade agreement covering automobiles.
The automotive industries of both countries were largely spared the effects of the global financial crisis, thanks to tax incentives and exports to the rest of Latin America.
Argentina produced 241,220 automobiles in the January-May period, up 59.1% year-on-year from the same period in 2009. Argentina is aiming to produce a record 700,000 automobiles in 2010.