Brazilian candidate Ms. Rousseff promises to have Lula da Silva as advisor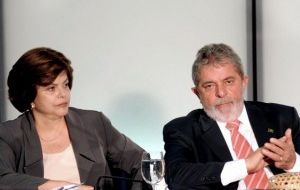 Brazilian presidential candidate Dilma Rousseff promised, if elected, that President Lula da Silva (and mentor) will be her advisor to help with all the reforms the country still needs to address.
"I want the president to advise me; I have a strong relation with Lula da Silva", said Rousseff who's the candidate for the ruling coalition headed by Lula da Silva's Workers Party.
Rousseff added she was certain that the president would help her with the political and fiscal reforms but "without holding any post, in the event we win next October".
The presidential candidate has never run for office nor has electoral experience; however she is considered the political heiress of President Lula da Silva, founder and undisputed leader of the Workers Party who has a prodigious public opinion support above 80%.
Lula da Silva steps down next January first and there have been all sort of speculations about his future, given the fact he has promised to continue in politics and lobbying for Brazil.
He has been mentioned as a possible candidate for United Nations Secretary General or head of the World Bank. Lula da Silva has refused to talk about those speculations.
Ms Rousseff who for the first time since the campaign begun is leading in the opinion polls also said Brazil was on a "fast track" to lower interest rates.
Interviewed by TV Cultura network's Roda Viva Ms Rousseff said Brazil needs to decrease nominal budget deficits and sovereign debt in relation to the country's GDP to be able to cut rates in a "sustainable" manner.
The country's economy needs to grow 4.5% to 5.5% a year from 2011 to 2014 to reach an "international level" for its interest rates, she told the panel in the TV show, which was broadcast on its website.
But she also underlined that lowering the country's interest rates in the short term would be "a concern" because of current international situation, Rousseff said.
At its last meeting the Brazilian Central Bank raised the Selic rate to 10.25% and is expected to reach 12% by the end of the year. The rate remained unchanged during most of 2009 at a record low (for Brazil) of 8.75% until the last two meetings when two consecutive 0.75 percentage points' increases were decided.