Cuban president sacks another (inefficient) minister: Light Industry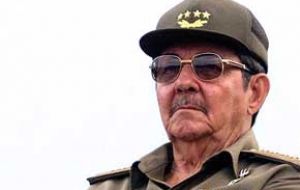 Cuban president Raul Castro sacked Light Industry minister Jose Hermandez, the latest of an on-going cabinet reshuffle with the purpose of implanting a policy of import-substitution to address the growing economic crisis.
According to the official report Hernandez (59) an expert in planning who had the job since May 2006 has been replaced by economist Damar Maceo, 47. The Light Industry ministry is responsible for the provision of clothing, foot wear, furniture and other non-food consumer items.
Maceo has been a bureaucrat at the Domestic Market Ministry and currently held the position of Deputy Minister.
Hernández has been assigned 'new tasks' said the official communiqué read on the government television network but without giving details of the replacement.
Since February 2008 when he formally became president of Cuba in lieu of his ailing brother and leader of the revolution Fidel, Raúl Castro has undertaken deep changes at cabinet ministerial level and in the Council of State (Executive).
Changes included the removal of former Vice-president Carlos Lage and Foreign Affairs minister Felipe Pérez Roque accused of "ambitious" for alleged corruption and conspiring, to the dismissal of several ministers and second ranking officials responsible for the running of the economy.
Cuba is desperately trying to cut its food import bill of over 2 billion US dollars and has leased land to small farmers to manage in free market conditions.
According to analysts a similar system could be in the pipeline for the manufacturing of clothing and foot wear, thus helping to ease the import bill.
Income in Cuba has fallen drastically because of the low prices for nickel and global tourism contraction.
A system of free lunches which was provided to most of the bureaucracy has been replaced by money handouts or simply eliminated for Cubans holding relatively well paid jobs in Cuban terms.

Raul Castro has repeatedly complained that a significant percentage of Cubans lack a 'work ethics' and are imperilling the revolution with their attitude.