UK Pavilion has won Royal Institute of British Architects' Lubetkin Prize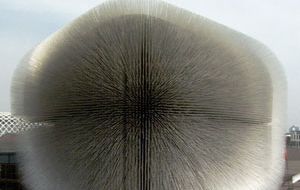 The UK Pavilion at the Shanghai Expo 2010 has scooped the prestigious RIBA (Royal Institute of British Architects') Lubetkin Prize for the most outstanding work of architecture outside the European Union by a RIBA member.
The stunning Pavilion, one of the visitors' favourites at the Expo, was designed by Heatherwick Studio, built by Mace and was chosen to represent the UK at Expo by a panel which included the Foreign and Commonwealth Office as the lead Government department.
The award marks two months of success for the Pavilion – with two million visitors flocking to see it, and many visits from international figures such as Chinese and international politicians, global business leaders and celebrities.
The Seed Cathedral sits in the centre of the UK Pavilion's site, 20 metres in height, formed from 60,000 slender transparent rods, each 7.5 metres long and each encasing one or more seeds at its tip. During the day, the rods act as optic fibres and draw daylight inwards to illuminate the interior. At night, light sources inside each rod allow the whole structure to glow. As the wind moves past, the building and its optic "hairs" gently move to create a dynamic effect.
The seeds have been sourced from China's Kunming Institute of Botany, the Royal Botanic Gardens, and Kew's Millennium Seed Bank partnership.
Jeremy Browne, Minister for the Expo at the Foreign Office underlined the significance of the prize.
"It is outstanding that the UK Pavilion has won the RIBA Lubetkin Prize. It is an amazing building which has shown the world the modern, creative and innovative face of the UK. I am very pleased to see the Pavilion recognised in this way", said Browne.
Thomas Heatherwick, designer of the UK Pavilion said it was an honour to represent the UK at the largest ever world Expo.
"From conception to completion, this has been an extraordinary project for the studio and the whole project team. It is an incredible source of pride for everybody involved to have received such a prestigious award."
The UK Pavilion has also been nominated for a British Construction Industry award, which will be announced in October. (FCO).-