NASA aerodynamics confirms Jabulani is erratic and unpredictable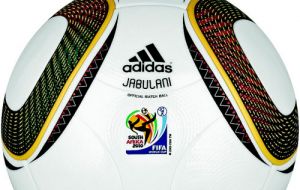 Following several trials with the official ball from the South Africa World Cup, the US Aeronautics and Space Agency, NASA, confirmed the famous 'Jabulani', seriously criticized by players and goal beepers is "erratic and unpredictable".
During he World Cup several coaches among them Diego Maradona from Argentina and goalkeepers, Gianluigi Buffon (Italy), Sergio Romero (Argentina); Julio Cesar (Brazil) and Claudio Bravo (Chile), criticized the 'Jabulani' and by the looks of it have now recruited a new critic that scientifically analyzed its performance and aerodynamic resistance.
The NASA evaluation was done in collaboration with US soccer player Stephen Beitashour from the US Soccer League San Jose Earthquakes and the first tests confirmed that the ball becomes 'unpredictable' at 72 kilometres per hour.
Aerodynamic experts from NASA's Ames Investigation Centre said that the scanty weight of the ball, 440 grams, make Jabulani most vulnerable to violent impacts generating a 'knuckle effect' which means the course becomes fortuitous and thus its unpredictability.
Airspace engineer Rabi Metha said that when you have a ball which is relatively plain and with seams it flies through the air with limited rotation, but air can influence the channels of the seams generating an asymmetric flow.
This asymmetry in practical terms means lateral forces which on occasions can pull the ball to one or another direction thus loosing target or diving her up or down.
To these details it must be added that the 'knuckle effect' the fact that most South African stadiums are one thousand metres above sea level, making the Jabulami even more erratic.
Maybe these NASA conclusions underlining the unpredictable condition of Jabulani can come as late comfort for English goalkeeper Robert Green who could not contain a short distance shot from US forward Clint Dempsey, confirming the 1-1 draw; or for the Algerian goalkeeper Fawzi Chouachi whose slow reaction helped the Slovakia 1-0 victory or Nigeria's Vincent Envema who was unable to contain a free kick from Japan's Chu-Young thus ensuring a vital draw for the Asian representative.