Unasur will be the "political complement which is missing with Mercosur"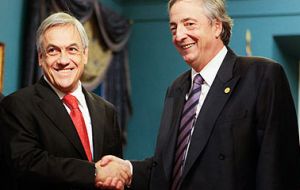 Unasur (Union of South American Nations) Secretary General Nestor Kirchner said on Tuesday that the regional block will become "the political complement which is missing with Mercosur".
The former Argentine president made the statement following a meeting with Chilean president Sebastián Piñera in La Moneda Palace, Santiago where he arrived to lobby for the approval by Congress of the Unasur charter.
"We agreed on all issues with President Piñera" said Kirchner who nonetheless has some convincing to make because several Senators from the Chilean Conservative ruling coalition are not entirely convinced with the wording of some of the articles.
"Obviously we are working and taking all the necessary measures for Unasur to coincide with and propel Latinamerica's interests", said Kirchner.
Chilean Foreign Affairs minister Alfredo Moreno said that all efforts will be made to ensure that "the treaty and the union of South American countries is the most adequate to Chilean interests and situation ".
"We have been participating in Unasur for several years and what is needed is the ratification, which has already been approved by a significant majority in the Lower House and now is under consideration by the Senate", added Moreno.
Kirchner also met with former Chilean president Ricardo Lagos and Michelle Bachelet.
Precisely it was Ms Bachelet who held the first pro tempore presidency of Unasur, 2008/2009, when the institutional organization of Unasur gave a decisive step forward with the creation of the South American Security Council and the South American Health Council.
On Wednesday Kirchner is scheduled to travel to Valparaíso to meet with the speakers of the Lower House and the Senate, Alejandra Sepúlveda and Jorge Pizarro.
The Unasur charter is stalled in the Chilean Senate since January 2009. So far the treaty and charter has been ratified by the Legislatives from Argentina, Bolivia, Ecuador, Guyana, Peru and Venezuela, half of the organization's twelve members.
Kirchner as Unasur Secretary General has visited Ecuador, Paraguay and now Chile.
Meantime in Quito, Ecuador Unasur representatives met in anticipation of the pro-tempore presidency transfer from Ecuador to Guyana, next August.
"The idea is to visualize Unasur prospects and prepare for the formal transfer of the pro tempore presidency from Ecuador to Guyana", said Kintto Lucas, Ecuadorean Deputy Foreign Affairs minister.
Lucas said that all country members had acknowledged the role played by Ecuador during the last year in creating, promoting and putting to work the different Unasur councils.
"We now have to look into the future and see how councils will keep working", added the Ecuadorean official.
Finally he said Unasur representatives will review advances in the "political dialogue" with United States and the creation of a regional body to help solving controversies.