Cuba promises to the Catholic Church the liberation of 52 political prisoners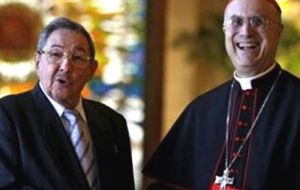 Cuba is to liberate 52 political prisoners, of the group of 75 that were condemned in 2003, who would be able to leave the country, the Cuban Catholic Church informed Wednesday in an official communiqué.
Five prisoners will be freed and would be able to leave "in brief" to Spain, along with their family members, while the negotiation of the other 47 "will be concluded within a three to four month period, which begins right now," the archiepiscopate text stated.
According to the Church's document, the government of Cuban President Raúl Castro informed of the decision during a meeting with Cardinal Jaime Ortega Alamino, the Spanish Foreign Affairs Minister Miguel Ángel Moratinos -who arrived in Havana on Monday to support the dialogue-, and his Cuban counterpart Bruno Rodríguez.
The text also reads that in the next few hours, another six prisoners would be taken to the provinces where they reside.
"During the meeting's, we talked about the process which begun last May 19, when President Raúl Castro Ruz received cardinal Jaime Ortega and the President of the Cuban Catholic Bishops Conference, monsignor Dionisio García Ibáñez."
Up to now, it says, the development of this process has allowed the liberation of a prisoner and the transfer of another 12 to their native provinces.
However Cuban dissident Guillermo Fariñas who has been on a hunger strike for 134 days said he would only stop fasting once at least 12 of the 52 political prisoners that the government of President Raul Castro promised to free are "in the street".
"I have always said that until the liberation of the 12 and the Catholic Church officially reports it, I will not end the hunger strike", said Fariñas in a phone conversation with the Ladies in White.
"I'm sceptical, until our brother are not free on the streets, we don't trust authorities", warned Fariñas who began fasting February 24 a day after the death of another dissident Orlando Zapata.