Mercosur member Paraguay among the world's tope eight beef exporters
Thursday, July 15th 2010 - 06:40 UTC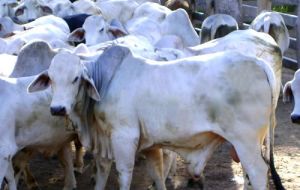 Mercosur full member Paraguay is now between the world's eight top exporters of beef, with prospects of increasing that position as meat quality increases boosted by improved breeding and better sanitary conditions.
Argentine meat expert Ignacio Iriarte praised current Paraguayan policies to promote cattle breeding in the country, which contrasts drastically with what has happened in Argentina "that has seen the national herd down 11 million head, a record for any period in the country's history".
Mr Iriarte who is a consultant on the beef industry was invited to give a conference in Paraguay in the framework of the 2010 edition of the country's most important cattle show currently taking place a few miles away from the capital Asunción.
His conference, "International market prospects for beef", pointed out that Paraguay has steadily advanced in promoting the country's quality beef and now figures among the world's top eight exporters.
"Given the policies implemented and global demand prospects, we can say Paraguay is in a privileged position to keep expanding its beef industry supported by high quality cattle", said Iriarte.
The Argentine consultant established a parallelism between the recent performance of the Paraguayan soccer team, which for the first time managed to be among the world's top eight in the World Cup hosted by South Africa, and the growing presence of Paraguayan beef in world markets.
"Nobody had expectations about Paraguay in South Africa but they turned out to be one of the big surprises, almost defeating Spain which finally won its first World Cup. The same has happened with Paraguayan beef which is now among the world's best".
Cattle fed on natural pastures, strong campaign to eradicate foot and mouth disease, sanitary advantage with no exotic diseases such as BSE (mad cow), reliable veterinary service, reliable supplier, are among some of the qualities which make Paraguayan beef a prime competitive product in any market said Iriarte.
Regarding international tendencies, Iriarte said that beef prices in the US and Australia, top exporters, between May and November 2008 fell far more than for the Paraguayan product, with a 35 US dollars difference, first time ever this happened.
"Prospects therefore for Paraguayan beef and I might add Uruguayan beef, are excellent".
Finally Iriarte underlined the errors of Argentine farm policies which have seen a drop of 11 million head of cattle (from a normal average of 56 million) which he said will take at least ten years to recover, "in normal conditions".
Paraguay thus joins the other three Mercosur full members, Argentina, Brazil and Uruguay which are among the world's top eight exporters of beef. Furthermore Paraguay which has traditionally supplied Chile, Venezuela, Russia and the Far East is also making inroads in the European Union.
The country currently has 500 farms included in the EU certified traceability program which is equivalent to a million head of cattle. A year ago the number of farms that enjoyed that condition was only 38.