US May trade deficit, the highest in last 18 months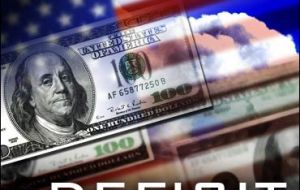 US trade deficit widened to its highest level in 18 months in May, driven by demand for imported cars, computers and clothing. The deficit increased by 4.8% to 42.3 billion US dollars, the largest since November 2008, Commerce Department data showed.
The 2.9% rise in imports outpaced the 2.4% climb in exports. US manufacturing has benefited from the global economic recovery, but some fear that problems in Europe will hurt sales in the future.
Debt troubles in the Euro-zone have also caused the value of the euro to weaken against the dollar this year - making US-made goods less competitive in the 16 nations using the euro.
May's deficit rise came despite oil imports dropping by 9.1% because of a lower oil price and lower volumes.

The deficit with China rose to 22.3 billion, up 15.4% from April and the widest since October last year.
Analysts say that this will add to pressure on the government to stand firm against China in trade disputes. Last week, the US Treasury chose not to label Beijing a "currency manipulator" - a decision that undermines efforts by the US Congress to pass punitive trade sanctions.
Some US manufacturers believe the Chinese Yuan is undervalued by as much as 40%.