EU/Mercosur business leaders call for "ambitious and balanced" trade agreement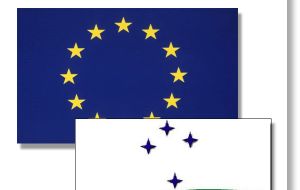 Brazilian and European business leaders gathered in Brasilia urged their governments to reach an "ambitious and balanced" trade agreement between Mercosur and the EU, and give first priority to the conclusion of the WTO Doha round talks.
The Fourth EU-Brazil Business Summit, held this week, was attended by executives of large companies and industry associations, who raised a number of suggestions to political leaders from Brazil and the EU.
Carlos Mariani, representing Brazil's National Confederation of Industry (CNI), presented a joint statement issued at the business summit to Brazilian President Lula da Silva, President of the European Commission Jose Manuel Durao Barroso, and President of the European Council Herman van Rompuy.
The business leaders expressed their concerns about recent developments in the global economy, and called for multilateralism in negotiations and coordination among the world's leading economies.
On the Mercosur-EU trade talks that resumed in May after having been stalled for six years, the statement suggested leaders should seek to "conclude the bi-regional free trade agreement, without sacrificing the goals of ambition and balance".
The statement said the conclusion of the Doha Round in 2010 "seems to be a difficult goal," and efforts are needed to reach a global agreement.
President Lula da Silva said bringing the talks to fruition will be a high priority during Brazil's upcoming presidency of Mercosur, which begins in August. He also emphasized that both Brazil and the EU support the efforts to keep the global trading system "open and governed by multilateral rules".
The EU/Mercosur (Argentina, Brazil, Paraguay, and Uruguay) talks aim to the creation of the world's largest free-trade zone, encompassing 750 million people and goods valued at 65 billion Euros a year. However the initiative faces strong opposition from farmers, environmentalists, and lawmakers in Europe, led by France, plus internal trade bickering between Argentina and Brazil as Mercosur largest partners.
Farm lobbies in France and elsewhere in Europe have criticized a possible accord in recent weeks, warning that cheaper imports such as Mercosur meats or Brazilian ethanol 'did not meet environmental or health standards' and could wipe out local producers.
The most difficult part as always is agriculture" said Pierre-Alain De Smedt of the Belgian Business Federation. "We want an ambitious accord. It's important the politicians keep this in mind as they come under political pressure," he added.
Some industry leaders talked up the benefits of a deal for European businesses struggling with the Euro-zone crisis. "At a moment of crisis in Europe, it's important to be able to count on fast growth in countries like Brazil. We will do everything we can to push authorities on both sides" said Jorge Rocha de Matos, head of the Portuguese Industry Association.
Brazil's economy is expected to grow by more than 7.5% this year as European countries struggle to emerge from recession and a region-wide debt crisis.
EU Commission President Jose Manuel Barroso acknowledged negotiations would not be easy. "We're 27 countries; we need to gather support on many fronts, in many sectors".
But the EU chief joked that if the two regions' achievements in soccer were any indication, the outlook for a trade deal was good. He said so far only Mercosur and EU country members have won the World Cup since it was launched in 1930.
European Council president Herman Van Rompuy underlined the EU strengths including the stability of the Euro-zone, its purchasing power and the "strong will of European political leaders to work together" in the face of economic difficulty.
"It is the highest priority for the EU to safeguard and strengthen global economic recovery and structural economic growth" insisted Van Rompuy. "According to some doomsayers, the Euro and European banks were on the brink of collapse earlier this year, and European economies rapidly shrinking, but economic data and strong measures taken in most member states and in the Union are not confirming this pessimism," he added.
Lula da Silva agreed, adding that Brazil is "strongly committed to pushing ahead with the reform of financial markets and the global financial governance system as indicated by the recent resolutions from the G-20 summit in Toronto.