Falklands' oil exploration to continue with second Rockhopper drill
Friday, July 16th 2010 - 15:56 UTC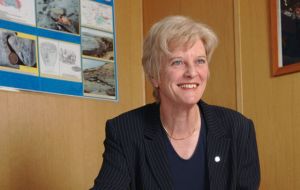 Oil fortunes ebbed and flowed this week as one exploration company abandoned its well, another looked forward to a second bumper find, and a new player joined the race for black gold in Falklands' waters.
Shares in Falkland Gas and Oil fell by more than 60% before recovering slightly to trade 45 per cent lower at 110p on news earlier this week it would plug and abandon its Toroa well, about 90 miles from Stanley in the South Falklands Basin.
FOGL failed to find any hydrocarbons after drilling to almost 2,500 metres, but said it would continue to pursue its other licence areas in the south and east.
Chief Executive Tim Bushell said results were disappointing, but he added: "It has to be remembered that this is the first well in a previously un-drilled frontier basin. We look forward to continuing our exploration programme once a suitable deepwater rig has been secured."
The Ocean Guardian rig will now be released to Rockhopper Exploration, seeking a second major find after striking rich at its Sea Lion site. The first significant discovery in the current round of drilling sent Rockhopper shares soaring by 650% in May, and the company hopes to repeat its success at its Ernest prospect in the north, where it will begin drilling later this month.
Meanwhile, a fifth company has announced plans to join the drilling race, once it raises £70 million in a London stock market listing. Argos Resources is led by John Hogan, who worked on Lasmo's attempts to find oil off the Falklands in 1998. The significance of their announcement is that Argos holds licences next to the Rockhopper discovery.
An industry expert was quoted in the UK Guardian as saying: "Punters will be disappointed that the Toroa well in the South Falklands Basin failed to find reservoir hydrocarbons.
"However, smart investors will be aware of the massive geological and geographical "gap" between the South and North Falklands basins – the latter having been massively de-risked by the Sea Lion discovery."
Director of Mineral Resources, Phyl Rendell said her department and the government anticipated the ups and downs of oil exploration, and remained "really pleased" with the program so far.
"All the difficulties have been overcome and we are particularly pleased to see the first well drilled in the southern basin," she said.
"Technically and logistically it is fantastic. It will take numerous months to analyse but it does represent a landmark in the exploration campaign."
Mrs Rendell said all five existing licensees were now active, and FIG would be seeking interest from other exploration companies later in the year as part of its ongoing marketing strategy.
She also paid special tribute to all those involved in building the lay-down area near FIPASS: "They have done a remarkable job moving all those tonnes of equipment, and there have been no hold-ups to the rig, which has been the main thing."
Argentina, though, continues to express its displeasure. According to La Nacion newspaper, Argos has already been sent a letter by the Argentine Embassy in London warning it to abstain from drilling or "it will face legal actions."
Similar threats have been levelled at the other exploration companies as the Argentine Government continues its attempts to make life difficult through imposing shipping permits, through its Decree 256, designed to disrupt movement of equipment and supplies between mainland South America and the Falklands.
Lawmakers in Buenos Aires are reported to have now approved a bill to impose sanctions on any companies working in Argentina with links to the Falklands' exploration program. The bill was passed unanimously in the lower house and is expected to be ratified by the Senate.
Mrs Rendell, though, remained unmoved by the political manoeuvring: "It is not preventing the campaign from proceeding," she said.
Acting Governor Ric Nye told the Penguin News Thursday: "As I said in my letter in last week's edition, the UK has protested to Argentina, and has firmly rejected Decree 256.
"The UK Government has made clear its view that it considers that the Decree and its implementing regulations are not compliant with international law, including the United Nations Convention on the Law of the Sea.
"The Convention provides for ships of all States to enjoy the right of innocent passage through territorial seas. As with other matters concerning a ship's route and operation, it is ultimately for a ship's Master and owners to decide whether or not to comply with the Decree, but there is a clear view in the UK that to do so is unnecessary."
Cllr Emma Edwards, minerals portfolio holder for the Legislative Assembly, was yesterday unavailable for comment.
By Tony Curran - Penguin News - Stanley