First Brazilian presidential candidates' debate will be on internet
Friday, July 16th 2010 - 03:29 UTC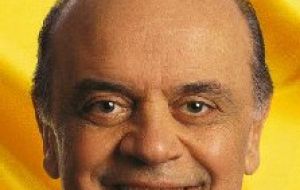 The first debate between Brazilian presidential candidates will be done exclusively for Internet, with the backup organization of the country's four most important portals which make up an estimated 95% of internet users.
The debate is scheduled for July 26th in Sao Paulo and will be transmitted live by IG, MSN, Terra and Yahoo.
"This is the first great debate of the 2010 electoral campaign and also the first time Brazilian presidential candidates will be doing so in internet" said the organizers of this first experience at www.debateonline2010.com.br
"The debate will be made up of four blocks in which the candidates will answer respectively questions from the other candidates, internauts, journalists and users of Twitter", explained the organizers.
Candidates invited to the debate are those who have registered over 5% of vote intention according to the June public opinion poll from Ibope.
They are incumbent Dilma Rousseff (Workers Party); Jose Serra (Brazilian Social Democracy Party) and Marina Silva from the Greens.
The campaign for the October 3 vote was officially launched last July 6 in the streets and internet, while on August 17 begins radio and television ads.
In related news former Sao Paulo governor and presidential candidate Serra joined the world soccer organization FIFA and the Brazilian Football Confederation in expressing concern over the government delays in preparing Brazil for the 2014 World Cup.
"The Cup is delayed in all Brazil", said Serra.

FIFA warned about Brazil's lack of sufficient infrastructure for the great world event.
"Brazil needs to do a lot in stadiums, airports, communications and hotels", said Jerome Valcke, FIFA's secretary general. "Airports are our main concern". "Our airports are on the verge of collapse, Things are not running", said Serra adding that President Lula da Silva "should talk less and do more".