New UK government retakes Trilateral talks with Spain and Gibraltar
Friday, July 16th 2010 - 07:54 UTC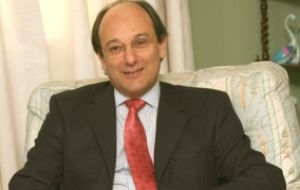 The first set of high level Trilateral technical talks involving a UK Conservative-Liberal coalition government are to take place in Gibraltar next week, it was formally confirmed.
In the now standard simultaneous trio release, Gibraltar, Madrid and London issued a joint communiqué saying that the next round of Trilateral talks between Gibraltar, the United Kingdom and Spain will be held on the Rock on July 21 – 22.
These talks rarely produce significant announcements but rather are preparatory to more concrete decisions to be finalised at full ministerial level.
It is anticipated that in the late autumn, possibly November, Gibaltar Chief Minister, Peter Caruana, and the foreign ministers William Hague and his Spanish counterpart Miguel Angel Moratinos will meet in Spain, possibly Cordoba or Madrid.
The meeting in Gibraltar last year produced detailed working document plans setting lower level technical teams a wide range of tasks and issues to pursue. Talks have taken place regularly at this level but the Gibraltar-Spain relationship has been caught in continuing tensions and exchanges over the sovereignty sensitive issues of territorial waters and airspace. But neither of the two will be formally on the agenda, primarily because Spain considers 'sovereignty related' issues to be for 'another forum'.
Attempts by Madrid to make that forum the Anglo-Spanish 'Brussels Agreement' of 1984 have constantly walked into the wall of Britain's assurance to Gibraltar that it will not engage in that process without Gibraltar's consent. Gibraltar's position is consistently that Brussels is 'dead' but despite various burials the Spanish view is that Brussels still walks the night to be summonsed each year in the much negotiated, so called UN Fourth Committee 'decision'.
In practice many of the issues are eased or resolved, like most diplomatic issues, in the corridors. And meanwhile Mr Caruana continues to recite the mantra that the Trilateral Forum, which formally allows any issues to be raised in talks, is the place for such matters to be aired and resolved.
In a recent interview with the Chronicle Mr Caruana said that the Trilateral forum serves as "a piece of dialogue architecture where these continuing problems and serious continuing disputes, such as the incursions into the waters, can be discussed. And they are discussed."
He said that the Forum has allowed Gibraltar to condemn bilateralism between Spain and UK about Gibraltar to history.
"Gibraltar has never been safer or in a more secures position about sovereignty. We are now in architecture of dialogue where nothing is agreed, nothing can be agreed unless Gibraltar is agreed."
Formally the talks next week will focus on some of the issues set out in the July 2009 Gibraltar summit: environment, financial services and taxation, judicial, customs and police cooperation, education, maritime communications and safety and visa-related issues.
One issue that will be aired in the context of the airport are the technicalities surrounding the physical link from Spain to the new Gibraltar terminal. Additionally there is the challenge of producing physical systems to meet the complexity of agreements on how passengers acknowledge their departure from Spain to Spanish authorities if they have arrived from Madrid but are not going to La Linea.
At next week's session the Gibraltar delegation will be led by the Chief Minister Peter Caruana. The FCO Director for Europe, Tim Hitchens, is leading the UK delegation and the Spanish delegation is headed by the Director General for External Affairs Europe and North America, Luis Felipe Fernandez de la Peña.
The statement said that "the delegations will review progress of the working groups established pursuant to the ministerial statement of 21st July 2009 under the Cordoba arrangements. The meeting will take place at technical level in preparation for a future full ministerial session."