Buffett warns Obama US economy is only 40/50% back on its feet
Saturday, July 17th 2010 - 06:43 UTC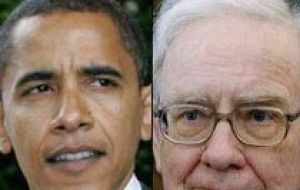 United States President Barack Obama received a sobering message from billionaire Warren Buffett when he asked for the investment guru's views about the economic recovery, according to an interview Obama gave NBC News on Thursday.
"I'll tell you exactly what Warren Buffett said. He said, 'We went through a wrenching recession. And so we have not fully recovered. We're about 40, 50 percent back. But we've still got a long way to go'" Obama told NBC during a visit to Holland, Michigan, to promote his job creation policies, a LG batteries plant.
Obama chatted with Buffett in the Oval office on Wednesday as he sought ideas on how to translate higher U.S. growth into stronger hiring. This would help him deliver on an election year promise to tackle unemployment currently at 9.5%.
Buffett, who built an estimated 47 billion US dollars fortune running his insurance and investment company Berkshire Hathaway Inc, warned Obama the recession created a huge overhang of excess capacity in the economy that would simply take time to mop up.
Obama said Buffett specifically used the example of the US housing market, noting 1.2 million new homes were built on average per year in the United States, according to historic trends. That number soared above 2 million during the property bubble, but construction activity has since collapsed.
"What Warren pointed out was, look, we're going to get back to 1.2 (million). But right now we're soaking up a whole bunch of inventory. So a lot of -- the challenge is to work our way through this recession," Obama said.
High unemployment is another type of excess economic capacity. Obama's Democrats risk severe punishment by voters in midterm congressional elections on November 2 if he fails to convince them stronger U.S. growth means better times ahead.
At the opening of the plant, Obama said "a lot of the challenge is to work our way through this recession, try to accelerate, not only profits, because companies now are making money primarily because they've cut costs, but also to see the opportunities out there. And that's what we're trying to show with this plant. There are enormous opportunities for the future. We just have to seize them".