Paul, the oracle octopus not for sale Germany tells Madrid zoo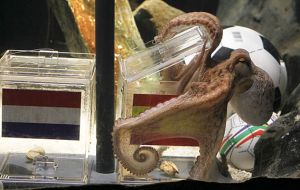 The Madrid zoo made this week a transfer bid for Paul the oracle octopus his aquarium in Germany it would outbid all others and give him a warm welcome in gratitude for predicting Spain's soccer World Cup win.
But Paul's keepers at Sea Life in Germany said the tentacle tipster was not on the transfer list.
Paul, credited variously with psychic powers or incredible insight into soccer, even for a species considered the cleverest of all invertebrates, became a celebrity for managing a perfect eight-for-eight record tipping winners in South Africa.
The octopus predicted football matches by picking food from two different transparent containers lowered into his tank, each adorned with the flag of one of the matches' competitors.
Paul earned Spain's affection for accurately tipping them to beat the Dutch in the final, but in Germany he became the butt of bitter jokes about grilled octopus and 'pulpo a la gallega' after predicting its defeats to Serbia and Spain.
The Zoo Aquarium in Madrid said that in response to "dozens of petitions from all over Spain" it had contacted Sea Life in the town of Oberhausen "to ask them to transfer the animal" and making the Germans an offer they could not refuse.
Madrid zoo assured the Germans that it could "improve on any offer received so far" and throw in some animals of its own. It did not make any mention of cash sums involved.
"The zoo also guarantees that Paul will receive the best attention, reflecting the great affection in which he is held by all the Spanish people since he predicted that the Spanish team would win the football World Cup," it said in a statement.
But Paul's keepers in Oberhausen were doing just that. They had said when the World Cup ended that the fame had not gone to his head and that he would see out the rest of his life — about another year, given the short life span of his species — at his old job of "making children smile".
During the tournament in South Africa, television crews from all over the world interrupted broadcasts for live coverage of the eight-legged oracle selecting a mussel from one of two food containers draped in the national flags of the opposing teams.
Standing near Paul's tank, which was crowded with visitors and bedecked with flags, Sea Life spokeswoman Tanja Munzig said that the octopus was not for sale.
"We are not in contact with Madrid Zoo. And we know nothing about swapping Paul for another animal or him going to Madrid Zoo for a transfer sum" she insisted.
But she did add that one Spanish approach was welcome — from a small, unnamed Spanish town that had declared Paul an honorary citizen and would send its mayor to Oberhausen next week to present him with a commemorative plaque and sculpture. They can go on his shelf next to the miniature World Cup he was presented last week.
Meantime in Beijing the press reported that the oracle octopus has been invited to visit at least five of China's major aquariums in the cities of Shanghai, Shenzhen, Dalian and Hang Zhou.
But in case Paul can't make it to China because the Germans are too strict, a travel agency from Guangzhou has a ten day package for soccer fans to visit Europe, particularly the three countries that made it to the semi-finals, Spain, Holland and Germany, where Paul lives.