EU almost free of 'mad-cow' plans to soften 1996 regulations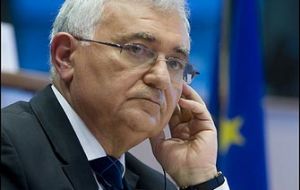 The nightmare of BSE (Bovine Spongiform Encephalitis – or Mad Cow Disease) is mercifully almost forgotten in the EU now. In total almost 200,000 cases of BSE were discovered in the EU. But there were only 67 cases last year and those were in very old animals probably infected many years ago.
The EU is therefore proposing to lift the remaining BSE regulations in place; for example, the requirement for an entire herd to be slaughtered if even one animal has the disease. It is now considered that destroying the infected animal and testing the rest of the herd would be enough of a safeguard.
The EU is also considering allowing pigs, chickens and fish to be fed flour derived from bovines, although it is still not considering lifting restrictions on feeding bovine-derived feedstuff to cattle.
"The European Union has made great progress in its battle against BSE and we are finally on the brink of eradicating the disease within the Union," said European Health and Consumer Policy Commissioner John Dalli.
Fears that mad-cow was linked to a brain-wasting disease among humans who ate tainted beef sparked a panic in the 1990s and a decade-long EU ban on beef from Britain, the epicentre of the outbreak.
The EU slapped a total ban on exports of British live cattle in March 1996 at the height of the mad cow crisis, after London reported a link with a new form of Creutzfeldt-Jakob disease in humans, connected with eating BSE-tainted beef.
The EU lifted the ban on British beef in 2006.