Positive sustained growth prospects for Latin America in 2010, forecasts IMF
Monday, July 19th 2010 - 04:24 UTC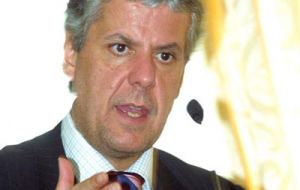 The Latin American economy could grow by as much as 5% this year, more strongly than previously expected (4%), driven by Brazil's vigorous expansion, according to a senior International Monetary Fund official.
"Brazil's very strong growth, the biggest economy in the region, stands out, as well as rapid growth from countries like Peru and Colombia" Nicolas Eyzaguirre, head of the IMF Western Hemisphere Department, told reporters.
Eyzaguirre added that the region should not suffer the effects of the Euro crisis, as long as the US economy keeps recovering and Asia continues to grow strongly.
Brazil, the region's largest economy is poised to grow 7% this year, up from a previous prediction of 5.5%, while Mexico, Latin America's second-biggest economy, will expand 4.5% in 2010, revised from a previous estimate 4.2% expansion.
However Brazil's economic growth will slow to 4.2% in 2011, below the world average of 4.3%percent, according to IMF.
The report said growth in the region is being supported by a rise in worldwide trade that benefits countries that export commodities. Mexico is the largest oil producer in Latin America, while Brazil is the world's biggest coffee, sugar and beef producer and a leading producer of soybeans, corn, cotton and rice.
Besides capital flows to emerging markets may increase as faster growth and low debt make them more attractive to investors than some advanced economies.
However the IMF also notes that Latin American economies "face some risk of overheating".