Southern Cone frozen: 100 dead and thousands of cattle lost
Tuesday, July 20th 2010 - 04:20 UTC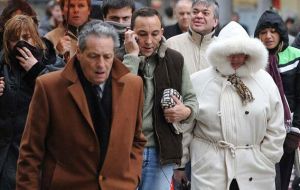 The polar wave that has trapped the Southern Cone of South America has caused an estimated one hundred deaths and killed thousands of cattle, according to the latest reports on Monday from Argentina, south of Brazil, Uruguay, Paraguay, Chile and Bolivia.
Deaths were caused by hypothermia or gas intoxication from defective burners and heaters.
In the south of Brazil and central Paraguay thousands of cattle have been reported dead, while in the south of Chile an agriculture emergency was declared and in Buenos Aires at the peak of the winter season, tens of regional flights had to be cancelled because of the extreme weather conditions leaving thousands stranded in the Argentine capital.
In Argentina the number of dead from hypothermia reached twelve plus another 33 intoxicated with carbon monoxide.
Bolivia reported 18 deaths because of freezing temperatures, most of them in EL Alto next to the capital La Paz, one of the highest cities of the world.
Even the east of the country which is mostly sub-tropical climate has been exposed to frosts and almost zero freezing temperatures.
To prevent contagion from flu and other illness the Bolivian Ministry of Education suspended schools until next Wednesday. Weather forecast is for the freezing climate to continue until August with cyclical peaks.
In southern Brazil at least 19 homeless died of hypothermia, and in the city of Urupema, next to Argentina temperatures dropped to a record minus 7.8 Celsius. In the Amazon basin in some cities thermometers dropped to 7 Celsius last Saturday.
In Santiago de Chile freezing temperatures reached minus 2 Celsius killing several homeless and intoxicating two families with malfunctioning burners.
But in the region of Aysen, 1.600 to the south of Santiago, villages are covered in snow and isolated; thousands of cattle and sheep are short of food and minimum temperatures dropped to minus 15 Celsius.
An agriculture emergency has been declared in Aysen; the main airport at Balmaceda has been closed for a week and several small towns have no power.
Paraguay so far has reported nine dead because of freezing weather, mostly homeless, and in the capital Asunción the government has opened refuges to host people overnight.
In Uruguay, one death has been reported and temperatures in the centre of the country dropped to minus 5 Celsius while the prices of fresh fruit and vegetables have soared.
In Peru which is more exposed to cold climate, so far 104 people have been reported dead because of pneumonia and respiratory diseases, caused by freezing temperatures and poor medical attention.
Although impressive these numbers are considered "normal" by Peruvian sanitary authorities for this time of the year.