Indians seize controversial dam under construction in Brazil's Amazon jungle
Monday, July 26th 2010 - 22:38 UTC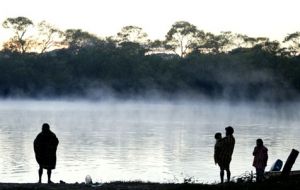 A group of about 300 Indians from 11 different groups on Sunday seized a controversial dam that is under construction in Brazil's Amazon jungle and took about 100 workers hostage, officials said.
Equipped with homemade weapons such as knives, bows and arrows, the Indians captured the workers who are building the Dardanelos hydroelectric dam in Aripuana, a city in Mato Grosso state, and sequestered them in their living barracks.
"The Indians did not at any time threaten their lives. They calmly asked them to go to their lodgings," said Brazilian National Indian Foundation, or Funai, regional coordinator Antonio Carlos Ferreira de Aquino.
Funai is the government agency that handles relations with the Indian tribes.
The Indians are demanding compensation from the authorities for the social, cultural and environmental impact of the dam, located 30 kilometres from their reservation.
The construction firm "dynamited" part of an archaeological site considered sacred by the peoples of the region, Ferreira de Aquino said.
"Over the course of time, the Indians have demanded that they be given compensation, as set forth by the licensing law (for public works projects). Since the hydroelectric dam is going to begin operating at the end of this year, they have lost patience," the Funai official said.
The authorities decided to hold a meeting Monday with the Indians to study their demands and negotiate their leaving the dam area and releasing the workers, Ferreira de Aquino said.