Kirchner begins round of contacts to defuse Venezuela/Colombia confrontation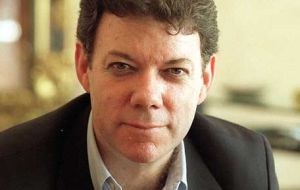 Secretary-general of the Union of South American Nations (Unasur) Néstor Kirchner who this week begins a round of contacts indicated that "it hurts that two Latin American countries like Venezuela and Colombia have this level of confrontation" and promised "to work from Unasur so that we can bring the two nations together and not affect the close relationship between their peoples."
Kirchner will meet on Monday with Colombian President-elect Juan Manuel Santos, the state-run news agency Télam reported. Kirchner and Santos, who is arriving Monday in Argentina, will discuss the "serious crisis" between Bogotá and Caracas, after Venezuelan President Hugo Chávez severed ties with Colombia.
Santos, who will take office on August 7, is also scheduled to meet President Cristina Fernández de Kirchner and according to press reports she may seize the opportunity to make a statement on the conflict.
Sources close to Kirchner said the Unasur secretary-general had agreed to head a mission following "telephone consultations" with Brazilian President Lula da Silva and Ecuadorean President Rafael Correa. Kirchner would reportedly travel to Caracas on August 5 to meet with Chávez and to Bogotá the next day to meet with outgoing president Alvaro Uribe and Santos, who takes office August 7.
After Venezuelan President Hugo Chávez decided to break relations with Colombia, Unasur began a series of urgent steps in order to mediate the conflict.
Meanwhile, Ecuador's president, Rafael Correa, instructed his foreign affairs minister to set up an extraordinary meeting -that could take place this week in Quito- of regional foreign ministers.
Venezuela and Colombia broke diplomatic relations last week following claims from the Colombian government of Alvaro Uribe on the alleged existence of members of the Armed Revolutionary Forces of Colombia (FARC) guerrilla hidden ant "tolerated" in Venezuelan territory.