U2 and Bono scheduled to perform in Santiago de Chile March 2011
Monday, July 26th 2010 - 20:45 UTC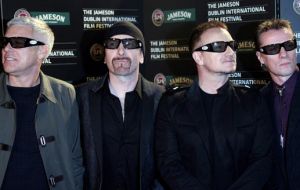 Chileans will have a chance to see U2 in concert, as the popular Irish rock band, headed by singer Bono, plans to perform in Santiago in March 2011 as a part of its 360 Tour. It will be the band's third show in Chile.
The band has held concerts twice before in Santiago, once in 1998 as a part of its PopMart tour, and once in 2006 for the Vertical Horizon tour. Between the two performances, crowd attendance totalled around 137,000 people — 60,000 and 77,000, respectively.
The event, which takes place in the newly renovated National Stadium in Ñuñoa, is expected to sell 65,000 tickets. Tickets for the concert will go on sale in the second week of September.
The band kicked off the 360 Tour in June 2009 in Barcelona, and continuing to European and North American stadiums. The band was forced to reschedule a majority of its performances from June 2010 onward after Bono underwent back surgery. The dates originally scheduled for 2010 were then pushed back to 2011, when the singer is expected to be fully recovered.
The band has made an estimated 311 million US dollars from the 44 dates played so far on the tour. The concert features a stage known as the "claw", which allows viewing the band from all sides and angles.
U2, originally expected to hit South America in October, will now appear in spring 2011. The band will stop not only in Chile, but also in Brazil and Argentina.
By Kayla Ruble – Santiago Times