Colombia-Venezuela diplomatic rift will test effectiveness of Unasur
Thursday, July 29th 2010 - 05:59 UTC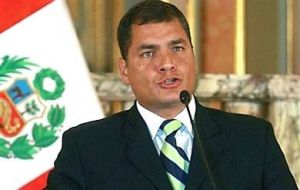 The extraordinary meeting of Unasur (Union of South American Nations) foreign affairs ministers convened by Ecuadorean president Rafael Correa for this Thursday should help to search for 'solutions' to the diplomatic rift between Venezuela and Colombia.
The meeting in Quito to which both chancellors have confirmed their participation (Jaime Bermudez from Colombia and Nicolas Maduro, Venezuela) will also have full presence from the rest of the twelve-member group, according to the Ecuadorean Foreign Affairs ministry.
Ecuador is hosting the meeting since it holds the rotating presidency of the group.
As to the conflict between the neighbouring countries the Ecuadorean government from the very beginning has been imperative in openly supporting a "dialogue process", and President Correa and his Foreign Affairs minister Ricardo Patiño have been extremely critical of Organization of American States Secretary General Jose Miguel Insulza for having had the opportunity to prevent the conflict, but failed dismally on having allowed an open debate on Colombian claims that President Hugo Chavez "tolerates" the presence of 1.500 guerrillas in its territory.
Chavez has said that Colombia's accusations are only an excuse for a coordinated aggression from the United States and its 'puppet' President Alvaro Uribe taking advantage of the US bases in Colombia.
President Uribe stated that "it was necessary" to address the issue in spite of the fact that next week he is stepping down and president-elect Juan Manuel Santos will be sworn in.
The Unasur meeting in Quito takes place a week after President Chavez decided to severe relations with Colombia as a consequence of the claims presented at the OAS.
Venezuela's Foreign Affairs minister Nicolas Maduro has been in a whirlwind round of visits to Unasur members (Brazil, Argentina, Chile, Paraguay, Uruguay, Bolivia) requesting support for a peace plan to end "six decades of political violence in Colombia" which would mean establishing a "political dialogue" between the government and the FARC and ELN guerrillas.
However president Uribe has anticipated Bogotá would be presenting its own "peace plan" which will be based on the immediate surrender and demobilization of the guerrillas allegedly 'tolerated' in Venezuelan territory.
"If Venezuela has a peace plan, so too here (in Colombia) we have one" Uribe said, adding that "there are some clear paths" to overcome "the guerrilla problem".
The Colombian leader said that the guerrillas who turned in their weapons and surrendered would be granted the same rights and guarantees as those extended to demobilized paramilitaries under the Justice and Peace process.
Meantime Colombian Foreign Affairs minister Bermudez in anticipation of Thursday meeting rejected the Venezuelan "peace plan" arguing that "a true peace plan begins with not interfering in the internal affairs of any country".
Venezuela's "peace proposal for Colombia is as if Colombia of any other country were to speak about a democracy plan for Venezuela," the foreign minister continued.
"Moreover, a true and sincere peace plan begins by not allowing criminals and terrorists to enjoy any space in the world, as international law dictates and which all countries should respect and abide, which means no physical or political space for the terrorists", underlined Bermudez.