Berlusconi selling his Sardinia "love nest" for 450 million Euro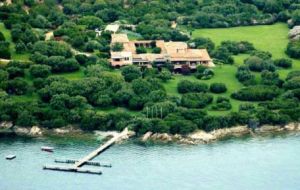 Italian Primer Minister Silvio Berlusconi is selling his ostentatious Villa Certosa in the island of Sardinia very much celebrated for some of the controversial private parties with prostitutes and teenagers he organized and were widely captured on film.
According to Milan's economic publication "Il Sole 24 Ore" Berlusconi has decided to get rid of the 80 hectares urbanized complex of Villa Certosa, which he purchased back in 1988, for the sum of 450 million Euros.
"Last July 17 the president of the government has instructed me the exclusive task of selling Villa Certosa" said Claudio Giuntoli, a real estate agent from Milan who for years has been involved in the business activities in Sardinia of "Il Cavaliere".
"Il Sole 24 Ore" points out that Berlusconi's intended operation is only one of several outstanding deals completed recently by magnates or famous show figures.
The newspaper mentions the purchase by Mexican billionaire Carlos Slim of a flat in New York's Fifth Avenue for which he paid 44 million US dollars.
A few days before the Mexican tycoon closed another real estate operation with the purchase of an eleven floor building on Fifth Avenue for 140 million US dollars.
Last week it was announced that Brad Pitt and Angelina Jolie bought a villa in the Italian region of Valpolicella, world famous for its wines, according to La Stampa.
Although modest by Berlusconi and Slim standards the 15 suites mansion in the Italian countryside close to Verona, had a selling price of 35 million Euro.
Villa Certosa with 4.000 square metres of construction, a main building of 2.600 sq mt and the rest distributed among other compounds, apparently has a significant list of interested parties that includes two Russian billionaires, two Arab princes and a London businessman.
The 450 million Euros which Berlusconi is asking also include permits to construct a further 300 sq. metres following on recent modifications to environmental and urban regulations that have triggered a confrontation with environmentalists and the Italian parliament opposition.
The Berlusconi family use to spend summer holidays in Villa Certosa before second wife Veronica Lario divorced the Italian PM last year following scandalous revelations of the 18th birthday party for teenager Noemi Letizia.
Noemi became famous for the Italian press because he called Berlusconi "Daddy" and he visited her parents in Naples.
Precisely these revelations, the divorce and the fact Berlusconi's children practically have given up going to the Villa Certosa, have convinced the Italian politician it is time to sell the property.