Brazil's incumbent presidential candidate takes the lead over main rival
Saturday, July 31st 2010 - 19:51 UTC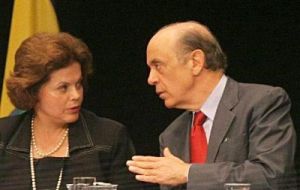 Brazil's ruling Workers' Party presidential candidate Dilma Rousseff, has a five percentage-point lead over her main rival Jose Serra, according to the latest opinion poll released Friday.
Rousseff gained 39% of voter support while Serra, from the Brazilian Social Democracy Party, received 34%, and former Environment minister Marin Silva from the Green Party 10%, showed a survey conducted by Ibope Institute.
Another survey released last week showed Rousseff ahead of her rival by eight percentage points.
The same poll taken a month ago showed Rousseff and Serra tied with 39% support each.
The survey polled 2,506 voters in 174 Brazilian municipalities between July 26 and 29 and had a margin of error of two percentage points.
However a June Datafolha poll published this month by Folha de Sao Paulo showed Rousseff and Serra in a technical tie: the incumbent candidate polled 36% of voter intention against 37% for former Sao Paulo state.
The first round of Brazilian elections is scheduled for October 3. If no candidate garners 50% of the ballots plus one a run-off will take place October 31.