Falkland Islands: Tussac planted in place of mines
Saturday, July 31st 2010 - 08:01 UTC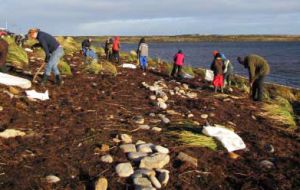 OVER the course of two weekends Falklands Conservation staff and volunteers led by Dr Rebecca Upson, Falklands Conservation's Plant and Habitats Officer, have carried out restoration work on two sites recently cleared of mines.
With the help of 20 volunteers, tussac grass was planted on coastal peat at the Canache side of the Surf Bay former minefield SA- 008. In contrast bluegrass was planted on the sand dunes within the same mine-cleared area.
This work has occurred because soil erosion is a major concern across the Falkland Islands for farmers and conservationists alike. Coastal areas are particularly vulnerable and require urgent attention.
In some coastal areas it is appropriate to plant tussac, and many such projects have and are currently taking place across the Islands. At other sites where the ground has eroded to sand or clay, tussac planting is not appropriate.
Restoration trials are therefore needed to develop methods for reclaiming large areas which are currently devoid of vegetation. It is in this context that Falklands Conservation is working with the Falkland Islands Government to carry out restoration trials on recently cleared minefields.
The data gathered will be used to inform best practices at other sites. (PN)