The 3.000 pax Celebrity Eclipse on her inaugural cruise to Gibraltar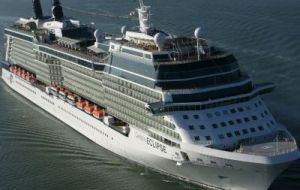 An introductory plaque exchange ceremony took place on the new cruise liner Celebrity Eclipse when she made her inaugural call to Gibraltar this week.
Celebrity Eclipse's Captain Dimitri Manetas met a party from Gibraltar representing different groups, and including Paul Martinez, Port Agent George Dyke, Gibraltar Port Authority's Captain Peter Hall, and Cruise Terminal Manager Eddie Gaduzo.
A number of gift exchanges took place and presented to the Captain of the Eclipse Dimitri Manetas, including a glass model of the Rock.
Port Agent George Dyke said: "Gibraltar is a very interesting place for passengers. It is also a very important port for cruise companies in many ways, not only because it is another port of call – it also represents some facilities tax-wise because it is not considered EU. Next year Celebrity will be increasing the number of cruises visiting Gibraltar to six cruises."
The Eclipse was launched four months ago, and this is its first Mediterranean Cruise taking place. This Cruise lasts for 14 nights and takes passengers around the Mediterranean before returning to Southampton. The third ship from the Solstice-class ship, the Eclipse carries 3000 passengers.
Captain Dimitri Manetas came to Gibraltar on Celebrity's Millenium before. He said as a company the Celebrity is very much interested in coming here quite often, especially on its Mediterranean Cruise. He hopes to see more Celebrity cruises stopping by in Gibraltar in the future.