The first two male couples marry in Argentina under recently approved law
Saturday, July 31st 2010 - 05:03 UTC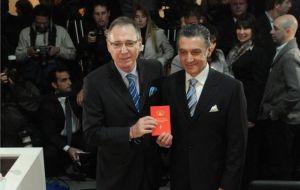 An actor and his agent sealed Friday in Buenos Aires their 34-year relationship and years of struggle to have their rights acknowledged as they became the first same-sex couple to be married under Argentine law.
Ernesto Larrese, the actor, and Alejandro Vannelli, who have a daughter and two grandchildren, exchanged 'I dos' at a crowded ceremony held at a Buenos Aires registry office.
A large contingent of the gay community attended the ceremony, along with family members, many journalists and famous actors including Mercedes Moran, Gerardo Romano and Boy Olmi, who acted as witnesses together with the couple's sisters.
The couple, who have been together for 34 years, were originally going to have to wait their turn until Aug 13 to get married, but in recognition of their long fight, the registry office allowed the occasion to be brought forward so this could be the first same-sex wedding since the law was passed, the first of its kind in Latin America.
"I'm so moved. It's such a wonderful moment. I only have words of gratitude" Vannelli, 61, said, unable to keep back the tears.
"I'm telling all homophobes to take it easy, nothing's going to happen to harm them, they have nothing to fear. Any phobia can be cured with love. And what is coming is more love, more equality, and that can't be anything but positive" Larrese said.
The wedded couple, both activists in the Argentine Federation of Lesbians, Gays, Bisexuals and Trans-genders, chose to formalise their bond at the same registry office that rejected their application three years ago, which led them to file an appeal that reached the Supreme Court
Earlier in the day a couple in the Northern Province of Santiago del Estero province also ties the knot. Three more couples are to put in motion the newly enacted law in different points of Argentina on Saturday.
José Luis Navarro and Miguel Ángel Calefato got married in their home province of Santiago del Estero, in the locality of Frías.
After the approval of the law two weeks ago Navarro anticipated that "it's going to be just for us, aside from the media repercussions it had. We're going to the civil registry, we're going to sit down, sign, and move on, because our objective is to marry".
Navarro, a 54 year-old architect from Córdoba province, says getting married is "a question of attitude towards life," and he assured that in the more than 27 years of living with his partner, "we've always been frank, we've never hid our sentimental relationship. Everyone in Frías has known of our relationship since we arrived".
"We never felt discriminated against, and if there was ever something similar, we didn't notice. On the contrary, we felt respected and we shared in all social activities in their totality" he added.
Navarro said that the same day the law was enacted, "we went to the civil registry and they immediately gave us the appointment; we didn't want to wait anymore."
On Saturday another three male couples, one of whose members are both Chileans that have been residing in Argentina for 14 years, are scheduled to get married.