World's leading iron-ore producer and exporter moves into the copper business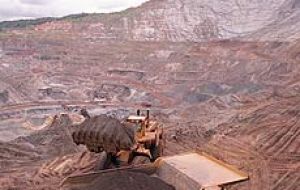 Brazilian mining conglomerate Vale Rio Doce announced this week that it will make a public offer to acquire Paranapanema, the country's largest copper smelter, as part of a bid to become one of the world's leading producers of the red metal.
Vale the world's leading iron-ore producer and exporter, said in a press release that the offer will extend to 100% of Paranapanema's ordinary shares and that the deal will depend on the mining giant acquiring control over the firm.
The Paranapanema complex includes a copper-cathode plant with a 220,000-ton-per-year capacity and three plants with an annual capacity to manufacture 78,000 tons of pipes, bars, wire, coils, sheets and other copper products.
Vale plans to offer that company's shareholders 6.30 Reais ($3.60) per ordinary share, which the miner said represents a premium of 22.4% over Paranapanema's average share price over the past 90 days.
Vale says that in the event all of Paranapanema's shareholders accept the offer the cost of the deal will climb to 2.01 billion Reais (1.14 billion USD).
"One of Vale's strategic objectives in the mid-term is to become one of the world's leading copper producers," the company said.
The Brazilian miner has the capacity to produce 300,000 tons of copper annually at its Sossego mines in the Amazon state of Para and its Canadian mines of Sudbury and Voisey Bay, where the red metal is a by-product of nickel production.
Vale said it is developing two other projects to increase copper output – one in Salobo, Para with 100,000 tons of annual capacity and another in Tres Valles, Chile with 18,000 tons of annual capacity.
Those two projects will come on line between this year and next, according to the company's projections.
Vale said it also will begin developing a project this year to produce up to 40,000 tons of copper annually in Konkila North, Zambia, and that at least five other deposits in Para state give it the option of further increasing output of that metal.
"The acquisition of Paranapanema is consistent with our strategic goal of accelerating growth in copper production and has significant potential to create value for the company's shareholders," Vale said in the press release.
The company also announced that second-quarter profits soared more than four-fold from a year earlier on higher iron prices and a new pricing system that let the company get higher prices for its ore.
In the second quarter Vale boosted prices for its ore by moving to a quarterly pricing system after the aging annual benchmark mechanism unravelled amid quarrels with China – the world's largest buyer of the metal.
"The implementation of the quarterly system of prices for iron ore and pellets was reflected in the revenues of the second quarter of 2010," the company said in a statement.
Profit jumped to 6.64 billion Reais (3.77 billion USD), an increase of 344% from 1.49 billion Reais in the same period a year earlier.