Beware (River Uruguay) contaminators, warns Argentine top scientist
Thursday, August 5th 2010 - 09:14 UTC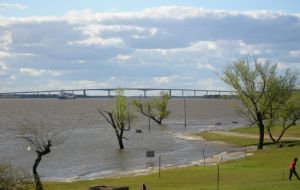 Contaminators "beware, the time of reckoning is coming" warns Enrique Martinez Argentina's president of the National Institute of Industrial Technology, INTI who in a brief opinion column praises the recent agreement reached between Uruguay and Argentina to monitor the River Uruguay and ensure the non contamination of the shared water course.
The warning is directed to intensive agriculture, poultry farming, big and small cities, the pulp industry, all of which straddle the River Uruguay it its most controversial leg and which triggered the several years conflict between the neighbouring countries over the construction of the UPM/Botnia pulp mill.
Under the heading of "a horizon of convergence and challenges" in the newspaper Tiempo Argentino, Martinez says that the bi-national team of experts who will have the responsibility of the monitoring will have the challenge to agree on the methodology and interpretation of results, "proving science and technology can be as objective as the scenario demands".
A second challenge is for both cities involved Gualeguaychú and Fray Bentos to understand their responsibility and obligations, according to the deal reached by presidents Jose Mujica and Cristina Kirchner, to act whenever raw sewage appears or a local industry sheds untreated effluents.
"This will be vital because all eyes will place each country before its duty to look after its side of the river in such a way is does not affect both sides", points out Martinez.
INTI president describes the accord reached as sufficiently 'ample' to allow for participants' intellectual honesty and imagination to help build the "quality leap that addressing such a controversy is awaiting".
Martinez adds that imagining a swifter and wider instrumentation than that envisaged by the accord, could help charter a complete contamination map of the River Uruguay all along its shared course which would serve a double purpose: providing a menu of preventive and corrective actions so as to enjoy an adequate ecosystem, and build an intervention model to replicate in all significant fluvial courses in the region.
Therefore and following on the bilateral agreement, Martinez imagines a global objective: "beware soybean fumigators, poultry abattoirs, big and small cities, wood and/or pulp processing plants, the time of truth is closing in".