Mining and agriculture disputing scarce water resources in northern Chile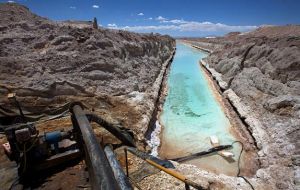 With the mining industry increasing its presence in northern Chile, problems over resources are arising between the mining and agricultural industries, especially over water.
Parts of the Copiapó Valley have not had rain since 2003, and with both the mining and farming sectors experiencing a boom, tensions are arising as a result.
Currently, in the Copiapó area, for every 40 litres of water used for agriculture, the mining industry uses 15 litres, while the general population uses eight litres. Farmers were once able to rely on occasional yet infrequent rain and underground streams, but the dryness has eliminated much of this. Worse, new mining projects are expected to increase water demand by a third in the coming years.
The mining industry has grown dramatically, drawn by Chile's economic stability, an increased ability for foreign companies to invest in Chile, and the rising price of copper. At the same time, in the last 50 years, the agriculture industry has shifted from mainly subsistence farming to mass production, especially regarding fresh fruit exports – now a 2 billion US dollars yearly business.
The debate over how to divide water resources between industries is complicated by the number of parties involved, as the communities, the industries themselves, the government, and those defending the environment are all affected.
Both sectors have taken different approaches to the water shortage problems, while environmental groups and industry analysts have added their own perspectives.
Environmental organizations and activists argue that mining not only uses up natural resources, but is also a major cause of pollution. There have been mining-related problems in places such as the Pica and Matilla oases, contamination of the Loa River, and the Salado River's drying up.
"(The mining industry) generates wealth for a few years, but then close down, disrupting water supplies and leave as a memory their toxic tailings dams," Luis Cuenca, director of Latin American Observatory of Environmental Conflicts, told El Mercurio. "In contrast, agriculture also pollutes but in much smaller scale, creates jobs and sustains rural communities for generations."
Agricultural leaders have a less confrontational view and aim to work together to develop a partnership with the mining industry. Some of these leaders have even said the greenhouse-reversing effects of farming, such as recycling carbon dioxide into oxygen, help counterbalance mining's detrimental environmental effects. Some, however, advocate for mining companies to increase investments in improving water shortage problems because their sky-rocketing profits.
Those companies have to build seawater desalination plants, establishing mechanisms to rescue the waters before they reach the sea and create the necessary channels for moving water from one basin to another" Rafael Prohens, president of the Copiapó Association of Agricultural Producers and Exporters, told El Mercurio.
So far, there has been some success in tackling the debate. For example, mining companies are required to complete environmental impact studies of their mines and other projects. Still, industry analysts say the government needs to improve its ability to evaluate and manage the information from these studies.
One case some claim as a success story is that involving the Río Elqui Advisory Board and the Canadian mining company Barrick Gold. Farmers raised concern that when the company closed the El Indio mine, the river would be contaminated and destroy the farming industry.
Barrick held a meeting with board members, farmers, and community residents to discuss their fears. It then committed to spending US$60 million to close the mine properly.
By Kayla Ruble – Santiago Times