Chavez to meet with Colombia's new president tomorrow
Monday, August 9th 2010 - 07:18 UTC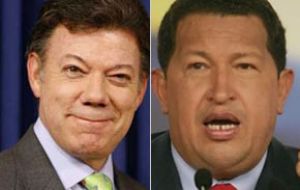 Venezuelan President Hugo Chavez and his new Colombian counterpart, Juan Manuel Santos, will meet this week as the first step toward restoring diplomatic relations between the South American neighbours, officials said Sunday.
Colombian Foreign Minister Maria Angela Holguin announced that the two leaders would meet in Colombia on Tuesday.
They will attempt to smooth over a diplomatic conflict that boiled over last month when Chavez severed diplomatic ties with the U.S.-allied Colombia after its outgoing president, Alvaro Uribe, accused the socialist leader of permitting Colombian rebels to find refuge within Venezuelan territory.
"We've taken this first step ... with the objective being the reestablishment of relations between the two countries," Holguin said at a joint appearance with Venezuelan Foreign Minister Nicolas Maduro.
Chavez denies he has given haven to Colombian rebels, and the former paratroop commander says he has instructed his military to confront members of any illegal armed group that slips into his country.
Chavez reiterated Sunday that he wants to forge friendly relations with Colombia following Santos' inauguration Saturday.
"We have much hope that the new government will begin to construct all that Uribe's government destroyed," Chavez said.
Diplomatic relations between Caracas and Bogota were particularly rocky during Uribe's last year in office. Chavez completely broke relations after Uribe's government presented the Organization of American States with video of alleged Colombian rebel camps in Venezuela and demanded that Venezuela investigate the allegations.
Chavez refused to investigate, but the self-proclaimed Marxist vehemently denied aiding the left-leaning Revolutionary Armed Forces of Colombia and the smaller National Liberation Army.
Earlier Sunday, Chavez urged Colombia's rebels to release their hostages as a means of kick-starting negotiations with Santos on ending the nation's decades-long armed conflict. His comments appeared to be a show of support for Santos.
"Just as one proposes that Colombia's government seek the path to peace, the guerrillas also must do it," said Chavez, speaking during his weekly radio and television program.
Then he called on the rebels to release dozens of hostages held in camps located deep within Colombia's jungles.
"Why do the guerrillas have people held hostage?" Chavez asked, suggesting they should not be using kidnapped Colombians to try to negotiate the release of imprisoned rebels.
Santos says he is unwilling to discuss peace with the FARC until it frees hostages, halts what he calls "terrorist acts" and stops recruiting child soldiers.
Uribe opposed a swap of imprisoned rebels for hostages unless any guerrillas who were freed agreed to abandon the FARC.
Chavez repeatedly criticized Uribe for focusing on weakening the rebels through increased military action — a strategy that won the two-term president strong public support — instead of trying to negotiate with the guerrillas.
Chavez said the rebels are mistaken in thinking they can seize power in Colombia through armed struggle.
"The Colombian guerrillas don't have a future through the armed struggle," he said. (AP)