Raul Castro wants "an opening" with Washington to help with the economy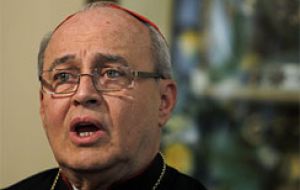 Cardinal Jaime Ortega, Roman Catholic archbishop of Havana, told The Washington Post that Cuban President Raul Castro wants "an opening" with the United States.
"He has a desire for an opening with the US government," Ortega was quoted as saying. "He repeated to me on several occasions that he is ready to talk to the United States government directly, about every issue".
Ortega and the Catholic Church led negotiations with the Cuban government that secured in recent weeks the release of more than 50 dissidents who have been jailed for years.
The church official made the comments in an interview with the columnist Jackson Diehl, who published them in Monday's edition of the US daily.
According to Ortega, Castro's motivation to improve relations with the United States lies in the chance that Cuba's economy can be revived by US trade and investment.
When asked whether such talks could include democratic reform as requested by the administration of US President Barack Obama, the cardinal said things need to be taken "step by step."
"It's not realistic to begin at the end. This is a process. The most important thing is to take steps in the process" Ortega said.
He highlighted the current situation as "something new" and as something that is set to "open possibilities" in the communist island.
Ortega was in Washington last week to collect a prize, in what was his second visit to the US capital in a little over one month.
He met with high officials of the Obama administration, including Obama's National Security Adviser Jim Jones and Arturo Valenzuela, the Assistant Secretary of State for Western Hemisphere Affairs. In his first visit to Washington in late June, he had already met with Valenzuela.