Santos/Chavez admits differences but restore diplomatic relations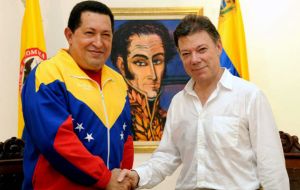 Colombian President Juan Manuel Santos and Venezuela's Hugo Chávez announced the resumption of diplomatic ties following talks to end the latest dispute between the two neighbouring but ideologically opposed countries.
Cross-border tensions have run high for more than a year with Chávez imposing what Colombia called a trade embargo and cutting ties completely last month.
However both leaders came to the colonial city of Santa Marta on the Colombian Caribbean coast in a reconciliatory mood, and said ties had been restored in a statement read after their meeting.
"We have had a frank, direct, sincere dialogue like in all good relations. We have taken a huge step forward in restoring confidence," Santos said, adding Venezuela had agreed to pay debts owed to Colombian exporters. That debt is estimated at about 800 million US dollars.
"I came here to turn over the page" Chávez said. The pair shook hands and stood under a statue of Liberator Simón Bolívar.
At the heart of the latest dispute were Bogotá's allegations that Chávez harbours Colombian guerrillas, and Venezuelan complaints about a Colombian deal to allow US troops more access to its military bases.
The issues and ideological differences can re-erupt again as happened with Santos predecessor, former president Alvaro Uribe. However in the short term both leaders implicitly admit that they need to restore bilateral trade to the tune of 7 billion US dollars a year.
Colombia needs the exports and Chavez in an mid term election year needs to ensure a fluid supply of foodstuff and other light industry items which the neighbour has traditionally supplied.
On his arrival, Chávez declared his affection for Colombia in a brief speech quoting Bolivar and Colombian author Gabriel García Márquez. He marched with Santos past Colombian troops and to a monument on the site of Bolivar's former colonial home.
Santos is a US educated economist (Harvard) from a traditional political family in Colombia who was elected in June by a landslide and took office last Saturday. He was former president Alvaro Uribe's Defence minister and both have repeatedly clashed with Chávez, an admirer of Cuba and the Castro revolution, who is a good friend of the guerrillas that he claims are fighting to overthrow the "Colombian oligarchy".
Santa Marta was where the Venezuelan-born Bolivar died after his long fight to free the region from Spanish rule. Chávez has met several Colombian leaders there in the past.
Relations with former president Uribe went particularly sour when in March 2008 Colombian troops stormed a Colombian guerrilla camp along the border in Ecuadorian territory killing the number two of FARC, Raul Reyes and having access to very valuable and incriminating data in captured laptops.
Ecuadorian president Rafael Correa and his ally Chavez were furious, but somehow the rest of Latinamerican leaders, particularly Brazil's Lula da Silva steered the situation away from a major conflict.
However Chavez was again furious when President Uribe signed a defence understanding with Washington opening seven Colombian bases to US forces. Chavez claims it's a plot to have him overthrown.
Uribe all along, and even out of the presidency, insists in claiming that Chavez tolerates Colombian guerrillas and their leaders in Venezuelan territory and even supports them logistically.
A week before stepping down from office, Uribe made the accusation formal before the Organization of American States to which Chavez reacted by severing diplomatic relations calling the Colombian leader a "warmonger".
In spite of the fact that Santos was Uribe's defence minister and political heir, Chavez under strong pressure from Brazil and other Latinamerican leaders finally agreed to a dialogue with the incoming Colombian president.
Uribe ruled Colombia for eight years and left the five decades old guerrillas' organizations that once ruled over 20% of the country's territory on the run and on the brink of defeat.
His democracy with security policy, with aid from Washington was particularly successful and so was his handling of the Colombian economy.
Uribe left office with an unprecedented 80% of public opinion support. He was barred from running for a third consecutive period by the Constitutional Tribunal.