Piñera Invites Ecuadorian President To Meeting In Antarctica
Thursday, August 12th 2010 - 20:34 UTC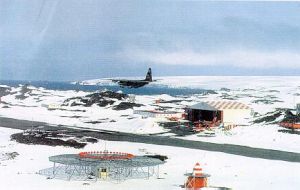 Chilean president Sebastian Piñera invited Ecuadorian President Rafael Correa to join him in a visit to Antarctica to continue diplomatic discussions concerning Chile's ongoing maritime border dispute with Peru. The trip is expected to take place between Nov. 6 and Nov. 8.
Piñera intends to discuss the validity of 1950s maritime treaties now used as Chile's primary defence in the dispute. Ecuador is a fellow signatory of the treaties, and its cooperation, as well as appearance before International Court of Justice in The Hague, would be a key step in Chile's effort to maintain the current parallel boundaries projected by the 1950s agreements.
Still, Ecuador is proceeding with caution so as to not to sour relations with Peru. Its defence of the 1950s treaties as a third party before the international court could prevent future border disputes between Ecuador and Peru as well.
The trip's announcement follows Tuesday's meeting of Piñera and Foreign Minister Alfredo Moreno with a Chilean representative before The Hague to assess the Chile-Peru maritime border dispute.
At the meeting the group developed an agenda for the dispute and reviewed an Ecuadorian maritime map, recently produced during Piñera's visit to Ecuador, that further supports parallel maritime borders.
Peru brought the maritime issue to the international court in 2008. It says maritime border extending from the land border between it and Chile should instead be a diagonal line. This change would divest Chile of about 10,000 square miles of lucrative fishing waters, as well as jeopardize other boundaries within the Permanent Commission of the South Pacific, which comprises Chile, Peru, Ecuador and Columbia.
By Dustin Zarnikow – Santiago Times