Scientists survey krill fishery and possible marine protected area in South Georgia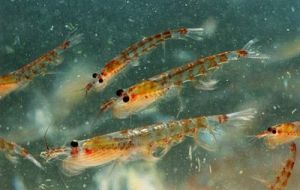 The two South Georgia Island King Edward Point (KEP) based scientists are undertaking regular winter survey work at sea to investigate the spatial overlap between the winter krill fishery and the distribution of foraging predators and fish larvae in South Georgia waters, reports the SG newsletter.
This forms part of a range of a larger program of marine studies that will lead to the establishment of Marine Protected Areas (MPAs) in the South Georgia Maritime Zone. In 2008 CCAMLR (Commission for the Conservation of Antarctic Marine Living Resources) identified 11 priority regions where work to designate MPAs was urgent; one of those was South Georgia. MPAs are an important tool for conservation of marine biodiversity, and form a key component of ecosystem-based management.
According to the UKOTCF (United Kingdom Overseas Territories Conservation Forum), the Sub-Antarctic is a natural laboratory that provides unique opportunities to study and understand one of the most intact large marine ecosystems remaining on Earth. However, human activities such as fishing, tourism and scientific research are increasing in the Southern Ocean, and have the potential to cause major impacts on biodiversity and ecosystem function. Sub-Antarctic marine ecosystems are fragile and can be slow to recover from the impacts of human activities, and their resilience may also be weakened by the effects of climate change. Action must therefore be taken to maintain the integrity of Sub-Antarctic ecosystems and biodiversity, before irreversible changes are allowed to occur.
The current winter survey work is investigating the potential interactions between higher predators and the krill fishery at South Georgia, as well as the possible interactions this fishery may have with other fish stock through the by-catch of larval fish, and will be conducted over two years. The scientists are conducting seabird and mammal counts and trawling for larval fish on set transects. The transect areas have been set in the main target areas of the krill fleet, set using historic krill catch data, and in adjacent areas that are not normally fished.
The two scientists are working opposite ends of the day. During daylight hours Higher Predator Scientist Jon Ashburner monitors a 300 meters wide strip of sea on one side of the ship as it moves along the transect. He records every higher predator seen, which may include penguins and other birds, seals and whales. He also records the animals' behaviour, noting if they are feeding, their direction of travel, approximate age and moult states for some of the birds. Analysis of the data should show what species are competing with the fishing industry to use the krill resource during winter.
Fishery Scientist Luke Kenny conducts his work at night. A plankton trawl net is used to fish for half an hour at three stations along each transect. He then analyses the collected samples to identify any larval fish. Four surveys are planned between May and August, as part of an OTEP (Overseas Territories Environment Programme) project. The results will build on earlier work surveying seabirds at sea carried out in 2002 to 2004.