"Miracle" in Colombia: Lightning downs aircraft: one dead, 114 injured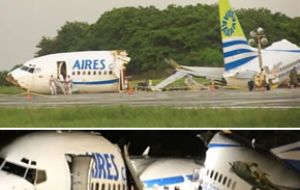 A Boeing 737-700 from Colombian air carrier Aires operating as Flight 8250 from Bogota Eldorado Airport to San Andres Island in the Caribbean split into three pieces on landing after being struck by lightning, according to statements from Colombia's national police.
The aircraft, identified as HK-4682 by the Aviation Safety Network, crashed Monday at 1:49 a.m. local time, killing one passenger and injuring 114 of the 127 on board.
The aircraft, HK-4682 (serial number 32416) was built in 2002, according to ASCEND Online fleet data. Aires leased the CFM56-powered aircraft from Dublin lesser AWAS. It originally operated with easyJet and had accumulated just over 22,000 flight hours.
The Colombian carrier currently operates 24 aircraft: 10 Boeing 737-700s that can carry as many as 149 passengers and 14 Bombardier Dash 8-100/-200/-300s that can carry 37-50 passengers, according to ASCEND.
The local press quoted General Orlando Paez of Colombia's national police as saying that the plane spun out of control when it was struck by lightning 80 meters before landing.
"It's a miracle" General Paez told Caracol Radio. "The pilot's professionalism prevented the plane from going off the runway."
The plane's fuselage broke into three parts. The island's airport was closed to allow the investigation to proceed.
"The captain (pilot) of the airliner told us it was struck by lighting. We are inspecting the remains of the plane to try to establish what the damages were and what caused the accident" according to Donald Tascon, deputy director of Colombia's aeronautics authority and quoted by Reuters.
"The plane arriving from Bogotá landed in the middle of an intense electrical storm" Colonel Gustavo Barrero of the Colombia Air Force told reporters.
The injured were taken to local hospitals. Many were later transported to Bogotá for further care. Passenger Amar Fernandez de Barretos, 65, suffered a heart attack just after the accident and died on her way to a local clinic.