Uruguay: world's leading consumer of beef with 58.2 kilos per capita per annum
Tuesday, August 17th 2010 - 08:58 UTC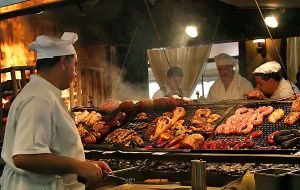 Uruguayans eat an average of 58.2 kilos of beef which makes them the world's leading consumers per capita, per annum according to the country's president of the National Meats Institute, INAC, Alfredo Fratti.
"The tendency has been steady in the last few years and for 2010 we anticipate a consumption increase of 6% per capita", he said which means that by the end of the year "Uruguayans will have consumed almost 60 kilos of beef per capita".
This is "a new record" for Uruguay and makes Uruguay "the main consumer of beef in the world".
The privilege until not so long belonged to Argentina, with almost 60 kilos per capita but in the last few years it has been decreasing and currently stands at 55 kilos per capita per annum said Fratti.
Uruguay is famous for its livestock and organic beef, which is also one of the country's main industries. The cattle herd currently stands at just over 11 million head which means four animals per capita.
Other countries with significant beef consumption include the United States, 43 kilos per capita, per year; Australia, 39 kilos; Brazil, 36 kilos; Paraguay, 32 and New Zealand, 26 kilos. Brazil is the world's leading exporter of beef with interests in all continents.
In Uruguay consumption has been increasing steadily from an annual average of 47.2 kilos in 2004; 47.6 kilos in 2005 and 51.2 kilos in 2006. In 2007 it dropped slightly to 51 kilos but the following year was up again to 54.7 kilos and in 2009, it reached 58.2 kilos per capita.
Fratti said that the growing consumption tendency in Uruguay can be explained because of higher income and purchasing power and because prices in the domestic market have become more stable