Military exercise to defend the Panama Canal brings together 18 countries
Wednesday, August 18th 2010 - 04:53 UTC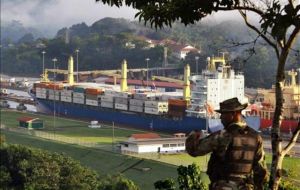 More than 2,000 civilian and military personnel from 18 countries began a 12-day exercise in Panama City Tuesday to train in a joint, multinational effort to defend the Panama Canal.
The purpose of the exercise, called PANAMAX 2010, is to enhance regional cooperation and exercise participating nations' ground, naval, air and special operators' ability to respond to threats to the Panama Canal and plan for a major humanitarian assistance and disaster relief event in the region.
Co-sponsored by the Government of Panama and U.S. Southern Command, PANAMAX 2010 is one of the largest multinational maritime training exercises in the world, and is taking place in the waters off the coasts of Panama until August 27.
Participants will conduct naval operations as a multinational task force responding to exercise scenarios ranging from a stabilization mission to disaster relief; scripted scenarios will address maritime operations skills essential to successfully countering 21st Century threats potentially encountered in today's maritime environment.
Nations participating in PANAMAX 2010 include: Argentina, Belize, Brazil, Canada, Chile, Colombia, Dominican Republic, Ecuador, El Salvador, Guatemala, Honduras, Mexico, Nicaragua, Panama, Paraguay, Peru, United States and Uruguay.
PANAMAX began in 2003 with the participation of three countries: Panama, Chile and the United States. Since then, exercise participation has grown significantly, peaking during PANAMAX 2009 with 20 nations.
This year's exercise simulates a "terrorist organization" attack against the Panama Canal plus the control of several countries of the area with the purpose of destabilizing the global economy, according to Jesus Rodriguez Panamanian coordinator of the PANAMAX 2010.
The United Nations Security Council in response to a request from Panama instructs the US to lead a multinational force to protect the Canal to ensure shipping traffic and free maritime access.
Last Sunday the Panama Canal celebrated its 96 anniversary. It is estimated that 5% of world trade makes use of the waterway.
"We have seen the great activity of the drugs cartels in the region and along the Panamanian coastline, which is closely connected to terrorism and the weapons trade. Drugs have become synonymous of terrorism", said Rodríguez.
The Panama Canal also provides an estimated 800 million US dollars in annual revenue for the Panamanian Treasury. Since its inauguration in 1914, almost a million vessels have used the canal.