Paraguay meat exports reach 530 million USD in seven months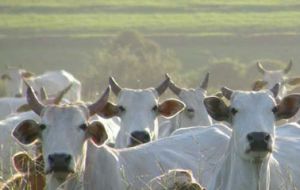 Mercosur junior member Paraguay exported over 100.000 tons of beef generating 395 million US dollars during the first seven months of 2010, according to the country's National Animal Health and Food Quality Service, Senacsa.
Other meat exports including offal, chicken, horse and derivates added another 140 million US dollars to total exports for the period.
Chile figures as the main buyer of beef with 40.000 tons followed by Russia with 37.000 tons.
In related news the Paraguayan Agriculture and Livestock ministry confirmed that several thousand head of cattle died because of the extreme cold and that sugar cane plantations to the east of the country also suffered the consequences of unexpected frosts.
According to the Risks Unit from the ministry, the worst situation occurred last Sunday when temperatures in the tropical area plummeted to one/two degrees Celsius.
"Fresh buds suffered the most, while the larger cane plantations survived", said sources from the Risks Unit.