Piñera condemns links of Chile's communists, Mapuche militants and FARC
Wednesday, August 18th 2010 - 03:53 UTC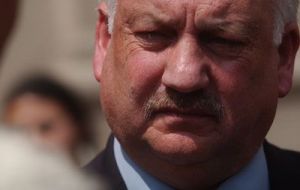 Responding to a recent document linking activists from the indigenous Mapuches and Chile's Communist Party to Colombian guerrilla group FARC, President Sebastián Piñera condemned any collaboration between Chileans and violent groups.
Colombia's prosecutor general delivered a document to Chilean authorities last month that detailed Chilean ties to FARC. In the document, seven Communist Party (CP) members, including party President Guillermo Teillier and Lautaro Carmona, are cited as having political ties with the group.
Teillier, now an elected deputy to Congress, said his party had never denied communicating with FARC, which caused an uproar in Congress but insisted that the CP never worked directly with FARC.
Piñera said that in his last visit to Bogotá he discussed the issue with Colombian President Juan Manuel Santos.
"I approached President Santos about the ties with the FARC and Chile," Piñera said. "We agreed to maintain a partnership to end the links between Colombian terrorists and terrorist groups operating in Chile."
"Anyone who has had any connections with terrorist groups owes an explanation to the country," Piñera added. "Not only those who have had operational cooperation in terrorism, but also those who have had cooperation at the political level. The terrorists must be fought on all fronts."
Piñera said information in the Colombian document helped link what he called terrorism in Araucanía, mainly by indigenous Mapuche groups, with FARC.
By Kayla Ruble – Santiago Times