Swiss win the "gruyere-war" certification over French cheese producers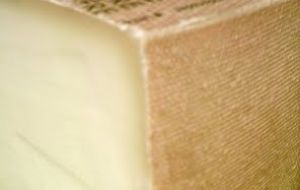 French gruyere producers have given up trying to win the coveted appellation d'origine controlée (AOC) certification, ceding the official label to the Swiss. They had been planning to take the matter to the European Commission, but decided against the risk: if their demand for the label had been rejected, they would have lost the right to call their cheese gruyere at all.
Both the French gruyere, which has holes, and the Swiss version, which does not, had been granted the AOC certification by their respective countries - France in 2001 and Switzerland in 2007.
The certification is given to agricultural products that are made using traditional methods, with certified ingredients from designated geographical areas.
Three years ago, French gruyere producers provoked the ire of the Swiss when they decided to seek the European Union's protected designation of origin (PDO) label for their cheese.
The EU had ruled on the side of the Swiss earlier this year, terming the French case as "weak". The EU was swayed by the Swiss arguments, which noted that the name Gruyere itself comes from one of their towns in the Alpine foothills. The court also found that French Gruyere was matured outside of the area it was produced in, and did not appear to qualify for an AOP.
Now that they have dropped the fight for the AOC label, the French producers say they will content themselves with the less prestigious indication géographique protégée,and keep the gruyere name.
In a statement, the French makers noted, "Agreeing with the recommendations of the European Commission, the French industry has decided to give Switzerland" the AOP.
History indicates that the first documents related to gruyere date back to 1.115 when peasants paid the monks of the Rougemont Abbey (Swiss Alps) with a certain amount of the cheese. There's a legend also that Roman Emperor Antoninus Pius died in 161 of indigestion with gruyere.
Another legend says that Count William Gruyere founded the Rougemont priory for which peasants paid in cheese that was later sold to finance the community.
French production of gruyere is 3.000 tons annually while the Swiss make 29.000 tons of which 7.200 are exported to the European Union.