First on-line presidential hopefuls debate attracts 50 million Brazilians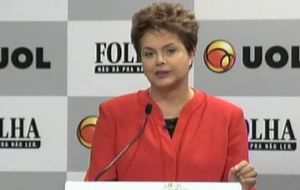 Three major candidates for the Brazilian presidency joined the first online debate Wednesday, which was followed by an estimated 50 million people and less than two months before ballot day, October 3.
The debate went on for over two hours, and included Dilma Rousseff from the ruling Workers' Party, José Serra from opposition Brazilian Social Democracy, and Marina Silva from the Green Party.
The original way of debating was organized by Brazilian newspaper Folha de Sao Paulo, and internet giant Uol. It took place at the Sao Paulo Catholic University, where more than 700 people has attended to presence the action while 50 million Brazilians followed it online.
Besides the online streaming, net surfers could also follow the discussions on Twitter and other social networks.
The debate was divided in three main blocks. In the first three, candidates exchanged questions: one minute for the question and two to reply.
Both candidates then had an extra minute and a half if they wanted to continue the exchange.
The three blocks were designed so candidates rotated in making the questions and in replying.
In the fourth and fifth blocks, twelve questions from on line public were selected, with two for each of the candidates, also with the rotation pattern.
Finally in the last block the candidates replied questions from three different journalists, with two minute time for their answers.
The debate ended with three minutes for the final considerations from each of the candidates: first incumbent Dilma, followed by Marina and Jose Serra.
"It was a democratic festivity", said Dilma Rousseff at the end of the debate.
"It's better than television, with more time for the replies" was the comment from Jose Serra.
Primary surveys showed former Environment Minister Marina Silva as the best positioned given her conciliatory and emotional approach. "Opposition for mere opposition is not useful" she underlined.
According to the latest public opinion polls released this week incumbent Dilma Rousseff leads with 43% to 45% of vote intention, while her main contender Jose Serra figures with 32% to 29% and Ms Silva ranges between 8% and 10%.
To win next October 3 presidential elections the successful candidate needs 50% of ballots plus one. Given the latest polls and not including blank or destroyed votes, Ms Rousseff would just squeeze in with 51%, thus avoiding a run off at the end of October and ensuring the continuation of President Lula da Silva's Workers Party coalition.