Uruguayan business delegation visits China to promote trade and investment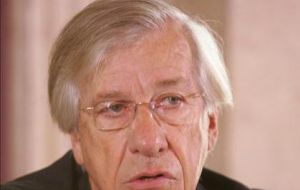 Uruguayan Vice-president Danilo Astori and a delegation of sixty businessmen are en route to China for a week long visit to strengthen bilateral relations and further promote trade and investments.
The delegation will be visiting Beijing and the world Expo-Shanghai 2010 where August 23rd will be dedicated to Uruguay and one of its main export items, beef.
Astori is scheduled to meet with Chinese Vice-president Xi Jinping and the president of the People's Assembly, Bu Wangguo. He will also be addressing Chinese officials and businessmen on investment opportunities in Uruguay.
Uruguay would like to see China participate actively in long term infrastructure investments in the country.
China has become Uruguay's second trade partner behind Brazil. In 2009 Uruguayan exports to China totalled 612 million US dollars and in the first six months of this year they have already reached 545 million USD, according to Uruguay's Executive website.
"The number of businesspeople in the delegation is a record", said Astori adding that "we are also working on scientific and cultural cooperation agreements".
China's absolutely spectacular growth has become a factor of equilibrium at global level, Astori pointed out in an interview with the Chinese news agency Xinhua.
"China has made great contributions to the world balance and peace, in critical areas such as politics and the economy plus expanding its cultural presence", said Astori.
"China, India, Russia have played key roles in balancing the negative impacts of the Western world developed countries financial crisis and slowdown. This has contributed strongly to promote growth, employment, investment in areas such as Latinamerica", pointed out the Uruguayan Vice-president.
"In Uruguay we acknowledge China's role and growing world responsibility, its commitment to peace and we are satisfied to have very good and fluid bilateral relations, always trying to better them".
Astori mentioned China's efforts in improving the living conditions of its people.
China and Uruguay established full diplomatic relations in 1988 and since then trade and cooperation has not ceased to increase.