Uruguay confident in recovering investment grade "within one or two years"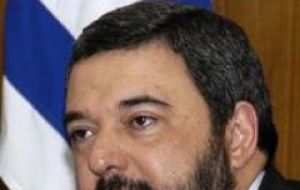 Uruguay whose credit rating was cut to junk in 2002, expects to return to investment grade within two years, central bank President Mario Bergara said. "We are confident that in one or two years we will have investment grade again," Bergara said at an investors' conference in New York Monday.
Uruguay is rated Ba3, three levels below investment grade, at Moody's Investors Service, and BB, two levels below, at Standard & Poor's and Fitch Ratings, all with positive outlooks. The three companies assigned investment grade ratings to Uruguay in 1997 before reducing it five years later after neighboring Argentina defaulted on 95 billion US dollars of debt.
Investors demand an average 193 basis points in extra yield to hold dollar-denominated Uruguayan bonds rather than U.S. Treasuries compared with 200 for Brazilian debt, according to JPMorgan Chase & Co. indexes. Brazil is rated an investment grade BBB- from S&P.
"Our sovereign spread is very similar to Brazil, though we have a lower rating," Bergara said. "We are very comfortable with the way the market perceives our risk. We feel we are on the right track."
Bergara also said the central bank is "comfortable" with the country's current rate of inflation. "We are within the range" said the Berkeley educated economist.
Uruguay's consumer prices rose 6.29% in July from a year earlier, within the central bank's 2010 target range of 3 to 7%, the national statistics agency said on Aug. 3.
At its quarterly meeting on June 24, the central bank's monetary policy committee held the benchmark overnight lending rate at 6.25% for the second time while pledging to watch for signs that inflation pressures may be building.
Consumer prices will rise 6.7% this year according to the median estimate of 27 analysts in a central bank survey published earlier this month.