Brazil forecasted to harvest smallest orange crop in eight years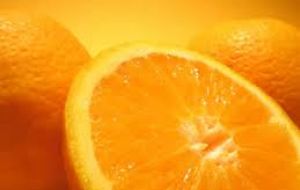 Orange growers in Brazil, the world's biggest producer, will harvest the smallest crop in at least eight years after rains hindered flowering, said Margarete Boteon, a University of Sao Paulo researcher.
Output may slump to 280 million boxes in the harvest that began in June, down 8.2% from 305 million boxes last year, said Boteon, who has been covering the market for a decade. Her forecast is less than the 286 million-box estimate from Sucocitrico Cutrale Ltda., the world's largest orange-juice producer.
"The rains in October have damaged the first flowering and hence the yield will be reduced" Boteon said in a telephone interview. "Also, now the fruits are falling because of extremely dry conditions".
Orange-juice futures have surged 43% in the past year, touching a two-year high of $1.53 a pound on March 8. The price surged on concern that Brazil's crop may be smaller and after the worst cold snap in more than 20 years damaged about 5% of the crop in Florida, the second-largest producer.
Florida's orange crop for this year will total 133.6 million boxes, the U.S. Department of Agriculture said last month. Boteon is predicting 154 million boxes. A box of oranges weighs 90 pounds, or 41 kilograms.