With strong farm sector recovery Paraguay economy forecasted to grow 9%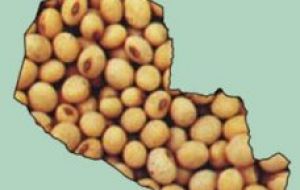 Paraguay raised its 2010 economic growth forecast to 9% from 6% on an improved agricultural production outlook, the central bank said this week. This would be the Paraguayan economy largest annual expansion in almost three decades.
Mercosur smallest economy (15 billion USD) but the world's fourth largest exporter of soybeans, saw its GDP shrink 3.8% in 2009 after six straight years of growth, hurt by the global economic crisis and a prolonged drought.
Jorge Corvalan, the president of the Paraguayan central bank, said growth in the livestock and construction sectors were also boosting the country's economic recovery. Paraguay expects more moderate growth, close to the historical average of 4.4%, in 2011, he added.
Paraguay's economy surged 10.9% in the first quarter from the same period a year earlier.
"Recovery of agriculture following last year's drought, sustained livestock expansion, manufacturing and construction propped by government spending and the private sector anticipate a solid 2010", said Gustavo Rojas from the Domestic Accounts Office of the Central bank.
These factors have helped to expand domestic demand, create jobs together with an increased overall confidence index.
"With these tendencies and if retailing and manufacturing keep steady we might have to again up our growth estimate for the twelve months", said Miguel Mora from the banks' Statistics and Indexes department.
The 9% growth is made up of 49.9% by farming; 9.7% manufacturing (including construction and public utilities); 34% services and 6.1% taxes.