Chile Looks to Relax Casino Laws to Cater Cruise Ship Tourism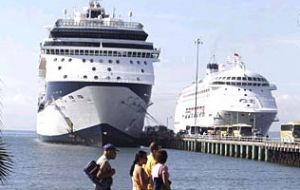 The Ministry of the Economy is planning to send a bill to Chile's Congress that would allow cruise ships to operate their casinos while in Chilean waters. This would repeal a section of the 2005 Casinos Act that requires all cruise ships to shut down their casinos when they pass within 13.8 miles of Chile's shoreline.
Economy Minister Juan Andrés Fontaine said the 2005 law had been a major factor in the decreasing number of cruise ships docking at Chilean ports. The numbers are expected to get worse, with the number of cruises arriving expected to drop from 228 in 2009 to 155 in 2011, a change of 32%.
The number of passengers is also expected to drop, by 52%, from 306,000 in 2009 to 144,000 in 2011. Chile's profits from the cruise industry are expected to drop from US$19 million to US$9 million in the same period.
"There is no good reason to keep this restriction when the boat is sailing," Fontaine told La Tercera. "We believe it is a concern because it is a key factor in our competitiveness as a tourist destination, since we're talking about high levels of spending."
Fontaine said that the "floating casinos" would create competition for traditional casinos. The bill would still require that cruise ships close their onboard casinos when they are docked.
Fontaine said the ministry anticipates positive reception for the bill, but because major cruise lines plan far in advance, the proposal would not take effect until 2012.
"The delay in acting is expensive because the big cruise companies do their planning well in advance," Fontaine said.
The ministry is also looking into other ways to boost the cruise industry's presence in Chile. Fontaine said other factors may be hurting the industry, such as ports being more expensive in Chile than in other countries. For example, the ports in Valparaíso and San Antonio are 30% higher than ports in countries such as Argentina.
By Kayla Ruble – Santiago Times