European Southern Observatory In Chile Discovers New Solar System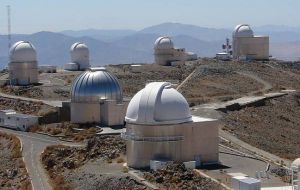 Some 127 light years away in the constellation of Hydrus, a new solar system has been discovered by a team of astronomers at the European Southern Observatory (ESO) on Cerro La Silla in Chile's Coquimbo Region (IV).
The team used an instrument known as the High Accuracy Radial velocity Planet Searcher (HARPS) to locate the system.
Geneva University Observatory's Chiristophe Lovis led the team that made the discovery. He noted that it was possibly "the system with the most planets yet discovered."
The solar system is known to harbor five exoplanets (those outside of our solar system) circling a sun-like star HD 10180, and is suspected to contain two additional planets.
"It's a very interesting discovery," said Dante Minniti, an expert on exoplanets at Universidad Católica. "They have discovered a system of five planets, and if the other two are confirmed, this system would be the most similar to our own."
One of the possible two extra planets, if confirmed, would be the lowest mass exoplanet discovered to date. It is estimated to be only 1.4 times earth's mass, and to sit at an orbit only 2 percent of earth's distance from the sun. One year on this planet would be the equivalent of 1.2 days.
Although their existence has yet to be confirmed, odds are likely that the sixth and seventh planets are there.
"There are five signals that are really strong that we have no doubts about, but we have another two with a 'false alarm' probability of 1 percent," Lovis said.
Discovering new exoplanets and solar systems involves measuring the "wobble" of a star, which is extremely slight movement created by the gravitational pull of orbiting objects.
By measuring discrepancies in the complex movements of HD 10180, the team was able to narrow down how many planets were in this solar system, their masses, and their near-circular orbital paths.
The five "Neptune-like" planets in the new solar system are orbiting the star at orbital distances similar to that of Mars, which, due to their close proximity to the star, rules out the possibility of sustainable life.
By Dustin Zarnikow – Santiago Times