Malvinas: Argentina working for more than "a gesture of support" from Unasur
Friday, August 27th 2010 - 08:25 UTC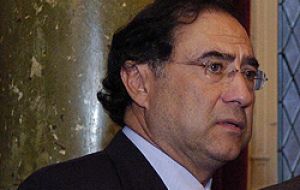 Argentina is working with Unasur (Union of South American Nations) so that in the future the South American forum offers more than "a gesture of support" to Argentina's claim over the Falkland/Malvinas Islands and helps bring the United Kingdom to the sovereignty negotiations table, said Argentine ambassador before United Nations, Jorge Argüello.
"Argentina is pushing to increase the level of commitment of the region with this historic claim", said Argüello during a meeting at the UN offices in Buenos Aires to brief journalists on next month's UN annual General Assembly agenda of activities.
Argüello revealed that Unasur is addressing 'hypothesis scenarios' which are in line with Argentina's interests and expects to receive "something more concrete than a gesture of support" in the dispute with the UK over the South Atlantic islands.
He considered as positive and beneficial for such a stance the recent experience of Unasur in helping defuse the Colombia/Venezuela conflict.
"The successful participation of Unasur in the Colombia/Venezuela crisis is a very important fact for the United Nations General Assembly which begins September in New York".
"I believe that Presidents Cristina Fernandez de Kirchner, Lula da Silva (Brazil) and even Barack Obama will mention the issue in their speeches", said the Argentine diplomat. He added that Unasur secretary general Nestor Kirchner played a "key role" in bringing together Venezuela's Hugo Chavez and Colombia's Juan Manuel Santos.
Argüello was also upbeat about Argentine prospects for its Malvinas claims because of the newfound support of English-speaking Caribbean countries (including in the UN Decolonization Committee chaired by St. Lucia) and the adverse impact of the Gulf of Mexico oil environmental disaster on the British South Atlantic oil exploration begun early this year.
"Similar deep-sea drilling in uncontrolled and disputed waters", Argüello pointed out. He then went on to reject the right of a (Falklands) "implanted population" to self-determination.
Donatus Keith from Santa Lucia and president of the Decolonization committee or C-24 is scheduled to visit Argentina next October.
Mrs. Kirchner is scheduled to address the UN General Assembly 24 September.