New York's Empire State Building looses to 15 Penn Plaza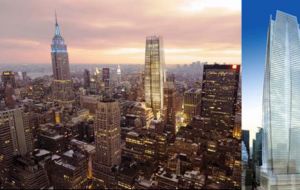 The Empire State Building has dominated the New York City skyline for a number of years since it was first built and it has become one of the top tourist destinations in the city. The building is now set to become second best however as a new building has been approved in New York city that will dominate the skyline and make the Empire State Building lose out.
The new skyscraper that has been planned for the city will be known as the 15 Penn Plaza. This building will be a 67 storey skyscraper and it will be located just two blocks away from the city's tallest building; The Empire State building.
The building is set to be 1,190 feet tall which will be just short of the Empire State building which stands at 1,454 feet. The empire state building has been the tallest building in New York for nearly 80 years and although it still won't be beaten by this new skyscraper, it will certainly not dominate the skyline as much.
The owner of the Empire State Building has raised many objections to the new skyscraper but planning permission has been granted.
The 15 Penn Plaza has been designed by architects Pelli Clarke Pelli and will be just across from Penn Station and Madison Square Garden.